Maritime-Union.com is the biggest job portal (web-based platform) specialized in jobs in maritime industry.
We offer the largest online platform, the most used search engine, the leading system and online ad network.
Our job portal helps seafarers to find job and companies to hire the best seafarers and suppliers easily, trade efficiently and build trusted relationships.
Our service promotes seafarers objectively and equally to all registered companies names in our database within the maritime industry with the sole purpose of benefiting the job seekers' best interest.
We are not associated with any particular crewing agency or marine recruiter.
We invest membership fees into the project to support Maritime Union Corporation.
Maritime-Union.com is a property of Maritime Union Corporation, a company registered in Belize.
What seafarers
are saying about us?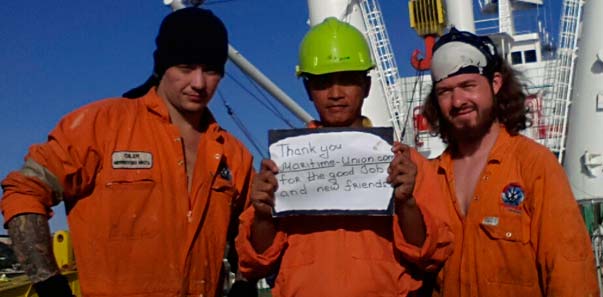 Dear seafarers! I am Chief Officer Roman Gusev. I have been working with Maritime-Union.com since 2012 and have found the website very useful in the recruitment of Maritime Officers. I recommend Maritime-Union.com to all Officers and other ratings that wishes to be employed or start career.

Chief Officer, Roman Gusev. Russia. Age: 38
This is without a doubt the best maritime resource I have seen! I rate you 5 stars!

DP Jr. Officer, Rajat Gopalakrishnapillai, India. Age: 41
Maritime-Union serves as the independent connecting link between the seafarers and the ship managers. Independent individual managers or owners, it delivers excellent service to a variety of shipping operations of various type and scale, may it be a large shipowner or a small shipmanager.

1st Assistant Engineer. Pavel Kulikovs. Latvia. Age: 40
Maritime-Union.com is devoted to attracting and retaining top talent, and to creating a working environment that encourages employees to build their career and to grow and develop over the years.

Master, Angelo Cabunilas. Philippines. Age: 44
This website helped me to establish connection between me and crewing agencies and also helped me providing information about shipping companies! I am not employed yet, but I am sure I will be employed as soon as possible!

4th Engineer. Ali Zahid. Pakistan. Age: 21
I am a 2nd Officer from the Ukraine and was looking for 2nd Officers jobs for the Product tanker fleet. A few weeks ago after I had registered and became a Premium Member I have been contacting all interested companies and I has been employed by Kuwait Shipping Company!

2nd Officer, Dmitro Vlasenko. Ukraine. Age: 29
As a cadet from Marine Academy I was invited to be recruited on UAE ships in order to gain new marine knowledge and exciting experience, develop my practice and skills. I was registered Premium Member and presented certificates and other confirmative documents. At the same time English speaking skills are surely appreciated.

Thanks Maritime-Union! Engine Cadet. Basem Zeidan. Egypt. Age: 22
Website files contain data of a large range of maritime companies of all possible jobs and careers and qualification needs. When I became the Premium Member I signed a new contract a few months after registration and was employed by German Shipping Company and started my new career! I recommend every starting seafarer after becoming a Premium Member to contact companies via phone and send your Application Form's IDs to agencies.

ETO, Waldemar Borowski. Poland. Age: 35
I am a motorman from Batumi, Georgia. After my contract my friend recommended me to register and become a member of the Maritime-Union. I completed my Application Form and sent my applications to a few maritime companies and I was contacted by Offshore Company and decided to sign a new contact. A was employed in a week and now I am on my contract. I am very happy that now I use online system for my career!

Motorman, Vitali Talanov. Georgia. Age: 26
The opportunities in Maritime-Union are many and varied and cover opportunities at sea and ashore. I am a new member and not employed yet and I want to start my career when I will be invited.

Deck Cadet. Yannis Mamonidis. Greece. Age: 24
---
Have you been employed by our website?
Every day Maritime-Union.com helps thousands of seafarers with their job search needs.
For us it is very important to know if our site helped with your employment.
Add your testimonial