Alliance Crew Agency LTD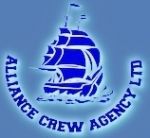 The company «Alliance Crew Agency» is registered in Batumi and has the necessary state-licensed to carry out activities related to employment of citizens of Georgia abroad. Our company is regularly voluntary certification services for recruitment and manning of Georgian crew on vessels under foreign flags for further obtaining the Certificate MLC , ISO 9001-2008.
The main direction of the company «Alliance Crew Agency» is the employment of seamen on vessels of foreign ship owners for decent wages and career advancement in the workplace.
Currently we complete the crew from the Captain to Steward, on the various types of vessels for foreign ship owners.
All our seafarers are certified in accordance with the requirements of STCW convention and have extensive experience working on ships under different flags.
All of our employees have extensive experience in the field of employment of seamen, and naval matters. Our office staff will help you find all necessary information relating to employment, and our managers can get advice on the required training and updating of diplomas and certificates. In turn, we guarantee the service at the highest level and we look forward to working with you.
The Agency's Management System it's designed to meet the requirements of ISO 9001 & MLC 2006 and all our employees are permanently trainned, tested & evaluated, in order to cover successfully all customers' needs & requirements and also in order to avoid right from the beginning future contract' nonconformities.
The entire crews supplied by Alliance Crew Agency are in full accordance with S.T.C.W.95 and completely complying with all new IMO/ISPS/ISM rules and regulations. Also, Georgian seafarers presents a lot of signing-on advantages and therefore those really interested in employing our personnel will receive a complete list of those advantages.
Company's Quality System is assessed in conformity with the requirements of ISO 9001:2008. Training, compliance, and review are key elements for ISO certified companies. It's an ongoing procedure directed towards quality improvement. We pay proper attention to observance of the standards of manpower selection and keeping watch on its changes and development. Technical Department provides Clients with repair services, and Russian Register certifies this activity.
Our staff are former senior officers and top personnel have a large experience in recruitment, ships maintenance and repairs. Being flexible and experienced in daily work with the Clients from the East and the West, and being anxious for further success in our business, we can meet all the demands of any potential Client. We hope you will see that our organized teamwork ensures a harmonious working environment both at sea and ashore, which in turn leads to a far superior service to our valued Clients.
Services that Alliance Crewing Agency offers are the following:
o Crew planning, recruitment and manning;
o Representation of the owners' interests in Georgia;
o Initial interview and screening of the candidates;
o Inspection of licenses and validity of STCW-95 certificate;
o Providing documentation and briefing for the candidates;
o Testing of the English language knowledge and computer skills;
o Travel arrangements (organization of trips, booking airline tickets, etc.)
o Arrangement of visa and flag state documents necessary for joining the vessel;
o Applying for visa and other required documents;
o Support in crew training and certification;
o Arranging medical and fitness examinations and certificates;
o Introductory information about Company's forms and manuals;
o Rew administration and management accounting and payroll services;
Services that Alliance Crewing Agency offers are the following:
o Crew planning, recruitment and manning;
o Representation of the owners' interests in Georgia;
o Initial interview and screening of the candidates;
o Inspection of licenses and validity of STCW-95 certificate;
o Providing documentation and briefing for the candidates;
o Testing of the English language knowledge and computer skills;
o Travel arrangements (organization of trips, booking airline tickets, etc.)
o Arrangement of visa and flag state documents necessary for joining the vessel;
o Applying for visa and other required documents;
o Support in crew training and certification;
o Arranging medical and fitness examinations and certificates;
o Introductory information about Company's forms and manuals;
o Rew administration and management accounting and payroll services;
---
Country ⚓

Georgia

City ⚓

Batumi

Address ⚓

140 Bagrationi Str. Batumi, Georgia 6000

Mobile ✆

Phone ☎

Email ✉

Email ✉

Email ✉

Web-site 🔗
---
---
Show contacts
Apply & send application to this company
Send My CV
---