BALTFORTAS TC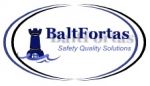 BALTFORTAS Is a young company ruled by the most experienced offshore industry training personnel in the region.
Our ambitions are to create the most useful and practical training centre approved by the most powerful training organizations in the world.
High quality of training, exceptional attention to each customer and flexible service – is the core of our activities.
We promise! We will never stop. Our training centre will serve for you, providing the most popular trainings for offshore industries personnel.
In the close future, our training centre will obtain more training standards, which are commonly listed in the most Oil & Gas, and Renewable energy companies requirements for personnel.
BALTFORTAS supports own created Competence Management System (CMS), using own created Competence Assurance Assessment and Verifying systems. The management systems were created in order to support an OPITO and international industries standards.
We can provide internal Audit and Verifying services to ensure that your Company Competence Management and Competence assurance systems are meets OPITO, HSE or other international standard applicable regulatory requirements for evidence of a workforce competence.
Also we conduct Verifying of Competence programmes and providing advice on improvements needed to improve the Assessment procedures.
Our OPITO certified Assessors and competence assurance Verifiers are well skilled with offshore experience, fully committed to Safety and quality of trainings.
We offer:
- Onboard Training (BALTFORTAS can deliver industrial safety training according to global standards anywhere in the world.)

We can deliver Onboard:
OPITO Rigger Stage 1&2
OPITO Banksman&Slinger Stage 1&2
OPITO Rigger Stage 3&4 Competence Assessment
OPITO Banksman&Slinger Stage 3&4 Competence Assessment
Confined Space Entry
Forklift
Working at Heights - UNIT 2 PPE USER
Working at Heights & Rescue
Cherry picker
- Competence Management System (CMS) Consultancy
- Assessment and Verification Services
- Offshore maintenance services
- Qualified manpower supply
---
Country ⚓

Lithuania

City ⚓

Klaipeda

Address ⚓

Industrial Training Centre Silutes pl. 101-311 LT95112 Klaipeda, Lithuania

Mobile ✆

Phone ☎

Email ✉

Email ✉

Email ✉

Web-site 🔗
---
---
Show contacts
Apply & send application to this company
Send My CV
---