Columbia Shipmanagement Rijeka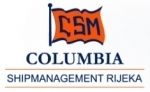 Columbia Shipmanagement Rijeka has begun its operations in Croatia in April 2002 with the main purpose to provide direct crewing services to Columbia Shipmanagement Ltd.
Being a CSM branch office, we play an important role as a crewing agency for the whole Adriatic region, which is well known for its long history of seamen culture, enabling us to continuously present a variety of competent seafarers to our principals.
Our team provides to our seafarers friendly as well as professional support, resulting in even higher productivity and contentment for both sides. Constant education of our office staff and our seafarers makes us all a valuable asset of COLUMBIA Shipmanagement Ltd.
COLUMBIA Shipmanagement Ltd. was established in Limassol, Cyprus, in 1978 and has evolved into one of the world's largest ship managers.
The parent company of Columbia Shipmanagement Ltd. is Schoeller Holdings Ltd. It is a powerful and dynamic organization with large fleet of owned vessels, several ship management companies and liner services, as well as various marine and non-marine investments.
The main task of COLUMBIA Shipmanagement Ltd. is to provide the entire range of ship management services for third party owned vessels, aiming for:
Excellent ship management services;
Long term partnership with customers, based on trust and customer satisfaction;
Tailor-made innovative services, which are safe, environmentally friendly, cost effective and reliable;
Industry Best Practices;
Growth and profitability of the Company;
Continual improvement.
COLUMBIA Shipmanagement Ltd. has become a leading force in its field by adhering to an unequivocal commitment towards quality and efficiency. With over 30 years of experience in an industry that is heavily regulated by legal authorities and commercial associations, Columbia has developed a reputation that our service always exceeded our clients' expectations. It is respected for its pioneering efforts in the promotion and implementation of safety of life at sea and protection of the environment.
Through a focus on exceptionally skilled Crew, cost-efficient procurement and first-class maintenance we ensure safe, uninterrupted and environmentally friendly operation of our vessels.
We further believe in establishing firm long-term relationships with our employees, customers and partners, treating each other with respect and dignity.
On the high seas, Columbia Shipmanagement is the name you can depend on.
---
Country ⚓

Croatia

City ⚓

Rijeka

Address ⚓

Rikarda Katalini?a Jeretova 1, 51000 Rijeka, CROATIA

Mobile ✆

Phone ☎

Email ✉

Email ✉

Email ✉

Web-site 🔗
---
---
Show contacts
Apply & send application to this company
Send My CV
---