Daphne Shipping Agency LLC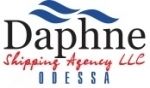 CAREER-BENEFITS FOR ALL SEAMEN UNDER OUR EMPLOYMENT
It is hereby announced that the «DAPHNE SHIPPING AGENCY LLC» represents solely the management company «NAVARONE S.A.»
«NAVARONE S.A.» employs Ukrainian masters, officers and crew within the last 17 years. All its fleet-vessels are manned fully by Ukrainian seamen who are receiving a deep respect from the company.
«NAVARONE S.A.» fleet's composition is about 40 new vessels built between 2008-2014.
«NAVARONE S.A.» is a unity of high reputation throughout of shipping market, where, all seamen's allowances are deposited in their account before end of month.
The majority of «NAVARONE S.A.» superiors and staff are highly sea-experienced persons, well-acquainted with key point of shipping sector and they constantly are on their seamen's side in every respect, in and out of the vessel, creating so a sound of collaboration for most desirable results.
«NAVARONE S.A.» desires and cared the existence of young generation in their vessels, promoting the seamen upon receipt of their licenses.
The capability and good performance of every seaman is fairly awarded by an efficient adopted by the company.
The communication standards of «NAVARONE S.A.» vessels are perfect, offering to all seamen internet and e-mail service, ensuring a direct contract even with their families.
«NAVARONE S.A.» is proud to announce that a lot of seamen with services exceeding 10 years are still under own employment and on the other hand, in view of company's fleet-extension policy with newbuilding vessels, the necessity of securing masters, officers and crew stands always at high levels.
Any reading skillful, capable seaman with interest of developing a career in a warm, friendly and healthy environment should not hesitate to join our company.
---
Country ⚓

Ukraine

City ⚓

Odessa

Address ⚓

19, Leytenanta Shmidta str., Odessa, 65012, Ukraine

Mobile ✆

Phone ☎

Email ✉

Email ✉

Email ✉

Web-site 🔗
---
---
Show contacts
Apply & send application to this company
Send My CV
---