Delta Marine Crewing Romania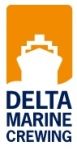 Delta Marine Crewing is a crewing agency located in Vlissingen.
Every day, our inspired crewing managers bring employers and employees together, so that projects – anywhere in the world – are ensured of continuity and the right crew.

Mediation worldwide

To quickly and effectively bring about the right match, Delta Marine Crewing makes use of a worldwide office network. We know the business and the projects of our clients. Whether they are active in merchant shipping, towage, offshore, dredging, tanker shipping, yachting, ship delivery or heavy lifting, we will find the crew members to help them out.
We also know the strong qualities of our seafarers and know what their passion is. That makes our mediation
personal, fast
and
effective
.
At home in the market
All crew managers of Delta Marine Crewing have a shipping background. With a team of six, we collaborate intensively and we know what goes on inside Delta Marine Crewing, which is a great convenience for you. No matter who you talk to on the phone, we know what you are talking about.
Large projects bring out the best in us. At times like these, we join forces and you receive the exact same service and attention as you do with smaller projects.

Mission & Vision
We commit to an optimal execution of projects. We aim to put the right person in the right place.
Continuity
Our mediation generally happens quickly. As soon as a vacancy opens, we start working with it. Our search for the crew member that can fill the vacancy with expertise and motivation will start that very same day.
Development = working with satisfaction
Know-how is necessary. But Delta Marine Crewing goes above and beyond. People get the most satisfaction out of their work if they can also develop themselves. That is why we strive for the match where the employee can utilise their talents as well as continue developing them. This way, the seafarer can keep on growing and the shipping company is assured of an enthusiastic employee.
Openness and transparency
DMC is committed to sustainable relationships. Openness and transparency are essential for that. We make clear agreements and follow them. Any difference of opinion – no matter what the subject is – is expressed. That is how we keep the collaboration pleasant.
---
Country ⚓

Romania

City ⚓

Mangalia

Address ⚓

S.C. Delphine Comar S.R.L. 2 I.C. Bratianu, 5th Floor Central Business Center 905500 Mangalia, Romania.

Mobile ✆

Phone ☎

Email ✉

Email ✉

Email ✉

Web-site 🔗
---
---
Show contacts
Apply & send application to this company
Send My CV
---