DGERELA MARITIME SERVICES LTD.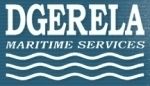 "DGERELA MARITIME SERVICES LTD.", the company, certified in accordance with the requirements of the quality standards BS EN ISO 9001:2008 / MLC 2006 by Bureau Veritas Quality International, was established to provide professional and competent manning services to Shipowners/Management Companies to their full satisfaction. We have good experience in recruitment and selection of qualified Ukrainian Deck/Engine Officers and ratings for different types of vessels, including dry cargo, bulk carriers, passenger cruise/ferry (we have specialists for Deck/Engine Department, Hotel/F & B Department), tankers, container ships, supply and offshore support vessels, etc. We can provide complete or partial crew as well as specialists for individual contracts. Kindly be informed that referring to our experience a Crew request/Job order may be given at least 2-7 days in advance to enable us to have ample time to prepare the required crew members.
As to "fly repair gangs", they are capable of performing any kind of repair work while a vessel is under way or under loading/discharging operations, which allows shipowners to reduce costs when maintaining quality of the work. The crew members of such gangs are certified and provided with all necessary seaman's documents. They have several years of experience in shipbuilding and repair yards.
At present time our database includes more than 3500 certified officers and ratings of all ranks and is in the process of updating day-by-day. As per your request we can immediately send you by e-mail candidates personal data from our computer database. We would like to bring to your kind attention the next range of services rendered by our company:
An extremely thorough and professional selection of seafarers by qualified and skilled ex-seagoing senior officers including such main steps as follows:
1. Initial interview and vetting the sea experience using reference (unless otherwise stipulated by the Shipowner's company).
2. Check up the presence, validity and authenticity of all necessary licenses and certificates in compliance with STCW-95 Code and IMO regulations requirements.
3. English language level test. Only the seafarers with excellent and good level of English are permitted to work in international crew.
4. Medical examination including drug/alcohol test.
Please note that medical examination and drug alcohol test are carried out by Medical Centre, licensed in accordance with Ukrainian legislation and International Health Regulations.
5. Upon selecting several candidates for every position these seamen pass through the interview with superintendent representative of the company, port captain or another person in charge in our office or by phone.
A programme of constant upgrading and improvement in the professional standards of seafaring.
All senior officers, deck officers, engine officers are licensed and certified in compliance with the requirements of the STCW-95 and ISM Code and trained at all required special training courses in UMS simulation centre, electronic laboratories, GMDSS certification, AMOS-D course, Bridge team management, Windows based office systems etc. Our ratings are also certified and trained at all required courses according to their ranks.
We also can arrange pre-joining familiarizations of seafarers with Company's policy, Principals' "Safety Management System" etc. as per request.
Arranging seaman's visa for shipowner's account, booking and collecting tickets, hiring a bus for transfer of crew etc. at Principal's request. We would like to inform you that to arrange a seaman's visa, which takes 1-10 working days depending on the country/port of embarkation and to meet travel requirements in the best way - we have our travel agent in Kiev (capital of Ukraine). In case of urgent crew relief we can book air tickets from Odessa by Austrian Airlines (via Vienna), Turkish Airlines (via Istanbul) and other air companies as well as from Kiev (8 hours by bus from Odessa) by various air companies to any airport world-wide. Special discounts are granted for seaman's air tickets. To do our job is the best way, our staff is well qualified, skilled and experienced in the sea personnel management.
Please note that we can arrange quality Manning Services according to terms and conditions of Collective Agreements approved by Ukrainian Trade Unions both affiliated to the ITF and not affiliated to the ITF.
---
Country ⚓

Ukraine

City ⚓

Odessa

Address ⚓

2/6, Observatorniy lane, Office 14, Odessa 65014, Ukraine

Mobile ✆

Phone ☎

Email ✉

Email ✉

Email ✉

Web-site 🔗
---
---
Show contacts
Apply & send application to this company
Send My CV
---