Epsilon Hellas Maritime Services LTD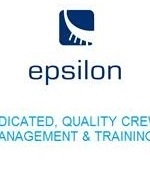 Epsilon is a dedicated provider of quality crewing and training solutions to the most discerning Principals.
Today, Epsilon is privileged to be the crew and training provider of choice for an elite group of the most demanding shipping companies, as well as being a long-serving member of key maritime organizations. We manage crewing affairs for more than 440 vessels, we deploy approximately 5,000 seafarers at any point in time, and we train more than 1,000 seafarers on a monthly basis.
This collective competence is confidently built upon an extended value network that includes the most reputable shipping houses, our fully-controlled offices across nine countries, key institutional affiliations, and the most trustworthy partners. The net result is an unparalleled relational capital and an embedded know-how that are deployed for a sole purpose: to offer customized services and trouble-free solutions and benefits to our clients. We do so in ways that unconditionally meet our ethical standards, respect the well-being of our seafarers and employees and maintain the sustainability and future development of our operations.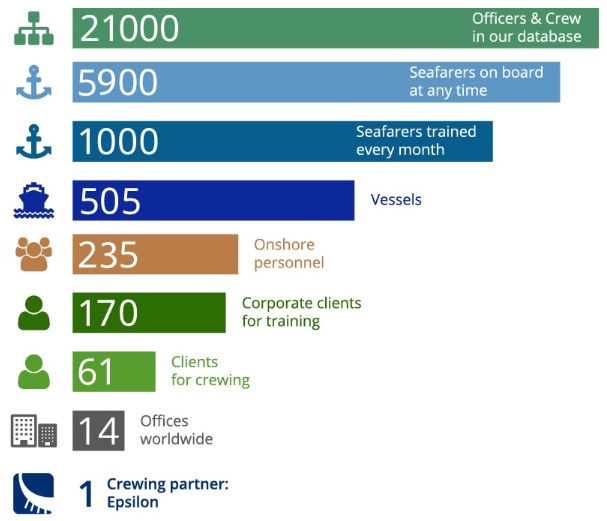 CREW MANAGEMENT
Our crew management package is a holistic and comprehensive solution that takes care of all crewing parameters & issues. Related responsibilities that consume money, time and energy for a Ship Owner/Manager are managed by us and this allows clients to focus on other operational issues. Our Operations, Travel, Agency, Training and Accounts departments coordinate to ensure the seamless deployment of crewing operations for your vessels.
Given that crewing is a function of high complexity and critical importance for the operational efficiency of one's vessels, Epsilon carefully plans and develops related solutions which offer peace of mind for the Ship Owner/Manager while at the same time retaining full and absolute control from the client's side.
CREW MANNING
Out of a pool of several thousands of seafarers of various nationalities, experience and skill base, we can provide clients with the manning scheme that they desire. Ranging from a single seafarer up to a full crew synthesis, we man vessels of all types across all ranks, carefully attending to the idiosyncratic requirements of discerning Managers. We apply strict selection criteria and we recruit the most fitting seafarers according to clients' policies and budgetary concerns.
Through our manning scheme, Epsilon has earned an enviable reputation in our field for one of the highest retention and loyalty levels in the industry worldwide. Our care & support for our seafarers, their families and their wellbeing, our training centers that enhance the quality and sophistication of our seafarers, as well as the continuous improvement of our management system, guarantee the smooth supply of skilled labour onboard.
Epsilon Hellas can also arrange for the deployment of Repair Teams or Gas Free Teams.

These teams of well-trained professionals can tackle specific jobs on a short or medium term contract period.
---
Country ⚓

Ukraine

City ⚓

Odessa

Address ⚓

11 Italiis'kyi boulevard, Odessa, Ukraine

Mobile ✆

Phone ☎

Email ✉

Email ✉

Email ✉

Web-site 🔗
---
---
Show contacts
Apply & send application to this company
Send My CV
---