Geo-Tams Nigeria Ltd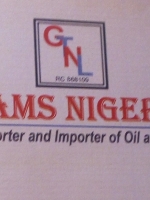 Please permit me to introduce Our Company; we are GEO-TAMS NIG. LTD an Energy Company in the Oil & Gas Industries of West African Sub region that is Registered under the Company and Allied Matters Act of The Federal Republic of Nigeria with Registration No. RC: 868109
We are Also Licensed to undertake Marine Export Transaction by the Nigerian Export Promotion Council with Registration No. 0000335
We are currently diversifying into Marine Logistic Agency because of the increasing numbers of Ports and Marine activities in Nigeria, Angola, Equatorial Guinea, Cameroon, Ghana and the Coastal Areas of the West African Sub Region and needed to Partner with an International Marine Agency on a Mutually Profitable Business Relationship.
The West African Sub region is a huge Market for Vessel Owners and Managers and it's potentially the best in Africa because of the number of Export Terminals for Crude Oil, Cargo Terminals [Ports] and Free Trade Zone [Ports] e.g.
Nigeria alone has 28 Crude Oil Export Terminals including the TOTAL E&P new EGINA FPSO Terminal that just arrived Nigeria in January 2018, there are 9 Cargo Terminals and 6 Oil & Gas Free Trade Zone in Nigeria.
Angola is the Second largest producer of Crude Oil in Africa and has 13 Crude Oil Export Terminals and 6 Cargo Export Terminals.
Equatorial Guinea has 11 Export Terminals.
Cameroon has 9 Export Terminals.
Ghana has 6 Export Terminals.
Just to mention a few and all these Export Terminals are within the Coastal Area of the West African Sub region in shallow water, deep water and Ultra deep Sea. So the Region is a huge Market for Crude Oil Tankers, Product [Bunker] Vessels, Offshore Supply Vessels, Anchor Handling Tug Vessels, Multi Purpose Supply Vessels and Platform Supply Vessels.
There are high demands for these Vessels either for Time Charter or for outright Sales of the Vessel
We look forward for quality partnership that will bring Mutually beneficial Business relationship.
George Wariboko D.
Business Development/Marketing Manager
Geo-Tams Nig. Ltd
Mobil : +234(0)8077146449
Whatsapp : +234(0)7064392262
Skype : warigeorge
---
Country ⚓

Nigeria

City ⚓

Port Harcourt

Address ⚓

3 wilbros junction, by New Road, Bonny Inland,

Mobile ✆

Phone ☎

Email ✉

Email ✉

Email ✉

Web-site 🔗
---
---
Show contacts
Apply & send application to this company
Send My CV
---