GMA MARITIME SERVICES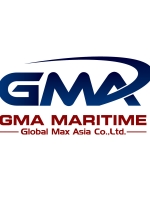 GLOBAL MAX ASIA COMPANY LIMITED (GMA MARITIME SERVICES)
INTRODUCTION
We, GMA Maritime Services are pleased to introduce our self as a ship Crew Management Company in Myanmar and Approved SRPS License No. PMN/176 with MLC2006 and ISO 9001:2015 Certified Agency in Myanmar, Approved by Seafarer Division and Department Of Marine Administration of Myanmar Government.
The Company Registration No. 101243796 aims to provide long term real values to domestic and overseas customers through our continuous investment and innovation in human resources capital in MYANMAR. Since incorporated in 2005 as local Representative of Ocean Light Shipping Pte,Ltd, According to the New Regulation of Myanmar Marine Department, we renew name to Global Max Asia Company Limited (SRPS) by requirement of MLC 2006.
WHAT WE DO
We recognize that vessel performance and the management of risk depends upon the effective selection and retention of competent staff. We select qualified personal to work on a diverse range of vessels. Today, our database of marine specialists allows us to react quickly to any requests from Client Ship-owners.
VISION
• To be a Global Leader in the Provision of Maritime Services.
•Driving our utmost to develop better relationship among people & ships.
• Every day, everywhere, revealing the inner beauty of our strengths.
MISSION
• To provide quality, innovative and socially responsible management services to preferred Clients.
• To listen to all the niche areas in marine industry and penetrate into those with our better services every day.
• To provide reliable, efficient and cost-effective services to offshore and marine industry.
"OUR MOTTO"
TO SEE THE INTEREST OF OUR COUNTRY AND SERVE OUR CLIENT TO THEIR UTMOST SATISFACTION…………………………………………………….
STCW and MLC Compliance
Our seafarers meet the very highest technical and operational standards. All personnel fully comply with STCW and MLC requirements and always have the necessary experience relevant to the type of tonnage to which they are appointed. Our recruitment process is dedicated to providing crews with maximum expertise and self sustainable capability.
Safety
We practice SAFETY FIRST at all times adapting best industry standards to manage the vessels and the people safe, healthy and environment-friendly at all time, We implemented our SAFETY MANAGEMENT SYSTEM.
Professional Ship Crew Management Services.
GMA Maritime Services provides comprehensive crew management solutions to the international marine industry. We provide experienced and qualified Officers and crew for all types and sizes of the ships to suit each Client's needs. Our who embrace wholeheartedly our company's spirit the operational efficiency of the ship. All the services we offer are implemented with a high degree of professionalism, careful follow up through regular ship visits and close communication with our Clients to confirm that company standards are being achieved.
Our crew management objectives are ensures that crew is:
Carefully screened and selected as per STCW requirements
Embarked and repatriated efficiently
Monitored for performance – The subject of comprehensive records
It is company policy to recruit crew who are experienced, certified as necessary and medically fit, appropriated to the operation of each ship. The implementation of this policy provides a high level of service to the contentment of our crew which, combined with our true care for our crew's welfare, generates a substantial retention rate of qualified seamen to the appreciation of our Clients.
Thanks & Best Regards
GMA Maritime Services , Your Sincere Partner in Crewing
IMO, MLC 2006, ISO 9001-2015 Certified Agency
#333,G-Flor,Bo Aung Kyaw st; Upper,Yangon, Myanmar,
Tele : +95 1 387 767,387 677 Mob : +95 9 4500 62 185 , 09 541 53 11
We Chat : GMA-Shipping , GMA-Travels
Email :
[email protected]
,
[email protected]
Web : www.myanmargmamaritime.com
---
Country ⚓

Myanmar

City ⚓

Yangon

Address ⚓

#333, G-FLOOR, BO AUNG KYAW ST; KYAUKTADA 11181,YANGON,MYANMAR

Mobile ✆

Phone ☎

Email ✉

Email ✉

Email ✉

Web-site 🔗
---
---
Show contacts
Apply & send application to this company
Send My CV
---