GROUPE MORI SHIPPING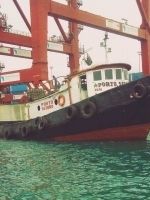 TO YOUR ATTENTION
WORKING PARTNER
GROUPE MORI shipping company logging in Togo/Lome Port.Now we want relations working partnership with your company .
We are working in : - SHIPCHANDLING - SECURITY -SUPPLY OF FOOD
STAFF - BUNKERS (tankers vessel) -GARBAGE REMOVAL SERVICE - SPEED BOAT AND
CREW CHANGE attendance in good condition and also with great respect of ISPS code.
- WELDING PAINTING -ELECTRICAL WORKS ENGINEERING -UNDER WATER CLEANING
SERVICE
kindly be informed that above are carried at raisonnable price with good agency fees.
Having qualified and experienced staff of several years in the maritime field and relying on your fraternal collaboration.
All pleasure will be for us to build and start partnership with your good company.
we are remaining at your disposal for any!
---
Country

Togo

City

Lome

Address

IMMEUBLE EXPRESS TRANS A COTE DU GROUPE DE PRIERE BETHEL

Mobile

Phone

Email

Email

Email

Web-site
---
---
Show contacts
Apply & send application to this company
Send My CV
---