Haris Navigation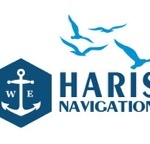 The main aim of Haris Navigation is to be recognized as a supplier of the highest quality services in selection of an adequate, competent and experienced crew, based on Your Company needs & Policy and International Maritime Highest Standards.
MAIN ADVANTAGES
We are proud to apply our extensive knowledge in cooperation between our clients and seafarers.
We're committed to establish long-term cooperation with well-trained and motivated seafarers.
WHY CHOOSE US
The unique selection of candidates is based on our own great sea going experience on board
of various types of vessels and other recruitment agencies.
Haris-Navigation Crewing Agency is the young company based in Odessa, the capital of marine industry of Ukraine and provides crew management service, prepares the relevant documents, travel arrangements. Our agency meets international standards of our customers and partners. The personnel of our agency is highly qualified, competent and make every effort to achieve success in all directions of our business activity.
CREW MANAGEMENT SERVICES
Company's Crew Management Department is represented by offshore, dry cargo and tanker fleet divisions supporting both tailor-made and full crew management schemes. The nationalities engaged: Eastern-Europeans.
-Vast data base consisting of pre-selected, properly assessed qualified seafarers
-Software permitting to select candidates according to your requested vacancy, giving access to digital copies of all relevant licenses and course diplomas. The system also facilitates detailed planning and organizational procedures.
- Flag State docs
- Offshore Medical Examination and Drug & Alco test
- Careful seafarers' documents check, English knowledge test + one-on-one interview with specialist
- Visa support
- Teleconference with potential employees
- Visa, flag documents and travel arrangements
- Professional support services of all kinds
- Friendly team available 24\7
PAYROLL SERVICES
Haris-Navigation Crew Management in-house team of qualified accountants offers our Clients comprehensive payroll services for marine staff, including:
-Calculation and processing of related payroll activities, payslips issue.
-Submission of Payroll Reports to the employing company.
-Computerized payroll system maintenance.
Fleet:
Bulk carriers, containers, tankers, LNG/LPG, chemical and various types of offshore fleet, such as AHTS, PSV,DSV, crew boats
---
Country ⚓

Ukraine

City ⚓

Odessa

Address ⚓

Grecheskaya sq. Office: 306-b, Business Center «Kyev»

Mobile ✆

Phone ☎

Email ✉

Email ✉

Email ✉

Web-site 🔗
---
---
Show contacts
Apply & send application to this company
Send My CV
---