Marine Bureau Ltd.

The company was established under name Marine Freight Bureau Ltd in February 1999 and started business as ship managers and freight brokers. The company successfully operated two bulk carriers, belonged to Grid Group that time. Later on 16 vessels of different type (including coastal traders, general cargo / multipurpose vessels and handysize bulk carriers) joined the fleet of Grid Group under management of our company.

In October 2002 Marine Freight Bureau Ltd was re-registered under the name Marine Bureau Ltd and got License from Ukrainian Government to act as crewing agency (№ АА 149218 dated 26.11.02, renewed № АБ 220111 dated 26.12.05, renewed № АВ 547362 dated 10.01.11 for unlimited period). Since that time we concentrated our efforts to serve the best way the crewing needs of different shipowners. We used to cooperate with different shipowners, among which are Wilson Ship Management AS, Pacific Basin Shipping (HK) Ltd, Epic Ship Management Pte Ltd, Iona Ship Management Ltd, VM Marine International Ltd
The management system of the company is certified by Russian Maritime Register of Shipping (Certificate № 15.359.180 dated 14.08.2015) as has been found to be in accordance with the requirements of ISO 9001:2008.
With respect to the provisions of the Maritime Labour Convention 2006, we maintain recruitment and placement procedures in accordance with standard A1.4 of the Convention, which is confirmed by appropriate Certificate of Compliance (№ 15.013.048 dated 12.08.2015), issued by Russian Maritime Register of Shipping.
Please enter our web site to see Marine Bureau Ltd activity in shipping. We will be pleased to answer your questions in case you will not find necessary information on the pages.
We wish to assure you will have reliable partner if you choose our company for joint business!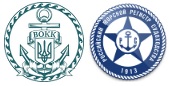 Logos of "Marine Freight Bureau Ltd" ISO 9001:2008 Management system Certified by RSRD Certificate Number: 15.359.180
The crewing department of "Marine Bureau" offers qualified seafarers and specialists of any rank and profession. We are fully licensed by Ukrainian government for crewing activities (№ АА 149218 dated 26.11.02, renewed № АБ 220111 dated 26.12.05, renewed № АВ 547362 dated 28.12.10 for unlimited period).

We are offering following services:
selection and engagement of the vessels' crew;
medical and qualification documents verification;
crew repatriation arrangements;
trade union negotiations;
arrangement of Flag State endorsement for seafarers certificates.
The agency is in direct contact with many ukrainian seafarers. Most of them cooperate with us for a long time, being employed by the agency for different vessels in different time with good references. This is our policy to offer employers reliable seafarers only. Nevertheless we are open for newcomers, who have to demonstrate good qualification and skill and provide positive references from the previous employer. We used to check the application forms and references before offering the candidates. On request of Owners/Managers we are able to provide several candidates and leave the option to choose the right person for Owners/Managers, if necessary. The Principals may have direct interview with the candidates via Skype.
Important to mention, that there are Maritime Academy and 3 Maritime Colleges in Odessa, which graduate new fleet offices every year, who are keen to work and be promoted. This allows to have wide net of specialists of different maritime professions available for employment. Besides we can provide cadets for the vessels, who can successfully work on board as ratings for less money.
The agency guarantee, that all officers and ratings have internationally recognized diploma, certificates and other documents, as required by STCW'95. This is verified via Ukrainian Ministry of Transport Inspectorate for Training and Certification of Seafarers. We usually conduct pre-employment medical examination, which ensure that crew members fit for service. Besides all seafarers are subject to alcohol and drug test before employment to ensure they are not alcohol/drug dependent. The candidates are passing English tests also, to ensure the officers can easy communicate in English and ratings understand English on the level, necessary for service.
The agency arranges crew/individual movement to/from the vessel in any part of the world. We have good relations with different traveling agencies, which allow to arrange joining/repatriation of seafarers in time and cost saving way. We take care about visa arrangements and immigration formalities also. The agency can provide for the seafarers, traveling on board with good quality and low price working clothes, having any desired logo.
The agency provides crew for vessels under national flags on the basis of owners' employment contract. Besides, if necessary, we may take care about collective agreement and union negotiations in case the vessel flies the flag of convenience.
The agency arranges without delay Flag State endorsement for seafarers' certificates, dealing with major Maritime Administrations, with whom Ukraine has signed Memorandum of certificates recognition.
All details in respect of Crewing Agency agreement terms and conditions are available upon request.
The company is active in ship management business from the year 1999. We used to operate handy size bulk carriers P-Star (DWT 24.000) and H-Star (DWT 16.000) including technical, commercial and finance management, insurance arrangements and claims handling.

Since August 2004 Marine Bureau Ltd supervise on behalf of Owners efficiency of m/v Wilson Brugge and m/v Wilson Brake performance, ensure that vessels are properly maintained, control income/expenditure, grant crew employment, payroll arrangements, H&M and P&I insurances and claims handling.

Above services are provided by qualified and well trained staff, who has an experience of sea-going vessels officers/engineers and shore based finance/commercial specialists.

We will be pleased to provide full ship management services for other Owners as well.
Since 2004 our company is active in marine insurances market, being representatives of Azov Insurance Group in Odessa region.

Founded in 1996, Azov Insurance Group nowadays provide a board range of marine insurance products trough incorporated companies and network of 30 branch offices and outlets across Ukraine, Russia, Baltic States and Spain.

Effective reinsurance of Marine Hull portfolio is placed with following international insurance and reinsurance companies:
Lloyd's Underwriters
GE Frankona Reinsurance Ltd
Military Insurance Co
Catlin Insurance C Ltd
Transatlantic Reinsurance Co
Mapfe RE Compania De Reaseguros S.A.
Wurttembergische Versicherung AG
Houston Casualty Co
Sirius International Insurance Corporation
The Group represents as a correspondent the following P&I Clubs and insurance companies in Azov - Black Sea region:
UK Mutual Steam Ship Assurance Association
The West of England Ship Owners Mutual Insurance Association
The Steamship Mutual Underwriting Association
The Britannia Steamship Insurance Association
The London Steamship Owners P&I Association
The North of England P&I Association
The Swedish Club
The American Steamship Owners Mutual P&I Association
British Marine Luxembourg S.A.
The Standard Steamship Owners P&I Association
The Shipowners Mutual P&I Association
Ingosstrakh
Russian P&I Pool
Japan P&I Club
Terra Nova Insurance Company
Please apply and we are sure you will find very competitive terms and conditions for your insurance arrangements.
---
Country ⚓

Ukraine

City ⚓

Odessa

Address ⚓

Tchaikovskogo lane 16, apt. 4 65026, Odessa Ukraine

Mobile ✆

Phone ☎

Email ✉

Email ✉

Email ✉

Web-site 🔗
---
---
Show contacts
Apply & send application to this company
Send My CV
---