Marnavi Holland B.V.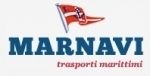 arnavi Spa (Plc) is a shipping company operating on the world chemical-product and foodstuff transportation market, and was founded in 1910 by Dominico Ievoli, the grandfather of the current president.
The company owned and manages 38 vessels plus 2 in delivery 2013:
13 Petrol-Chemical Tankers, ranging between 3,700 and 26,500 dwt;
5 AHTS + 1 new building (Delivery 2013);
1 AHT;
1 PSV ( Delivery 2013 );
3 M/Tug Recoil Vessel;
1 Shuttle Tanker;
2 Flat Deck Cargo Barge;
5 Anti-Pollution Recoil Vessel;
7 ships for transporting food produce, oil, water and wine which serve the Italian island communities.
The Company is managed by its president and chief shareholder Domenico Ievoli in close cooperation with his two sons and vice presidents Attilio and Gennaro, assisted by a highly qualified and competent staff.
In discharging all the activities regarding equipping its vessels, the Company personally manages its own crews, controls all safety requirements and its technical office and arranges its own chartering. Thus the accredited ISM as well as the ISO 9001:2008, ISO 14001:2004, BS OHSAS 18001:2007 and UNI 10854/1999 certifications guarantee the smooth running of the entire shipping activity.
The commercial activity directly carried out by Marnavi includes the management of transport contracts with leading petrol-chemical companies and the direct practice of on-the-spot activities.
The Company's strategy is to consolidate its presence in market areas it considers strategically important by optimizing the service offered to its customers.
In petrochemical transport Marnavi operates in the Mediterranean, on the continent and on the transatlantic runs.
Marnavi has rigorously implemented and continues to implement its TMSA through a rigorous code of conduct in order to ensure for itself and its clients that its ships and crews always work at the highest levels. This is achieved more especially through a rigorous application of programmed maintenance criteria and programmes of crew instructions to guarantee continuous updating and a steady enhancement of its professionalism.
The average age of the petrol-chemical fleet vessels is 5 years and the new programmes ensure continuous renewal of the fleet itself.
By the measures outlined above Marnavi intends to see that the transport of the cargos entrusted to its care is carried out with the greatest attention and under maximum safety towards the environment and human life in the Company's own interests and in those of the charterers. The self-control procedure is extremely rigorous and applies both to the standards aboard, as well as office procedure, with special attention being paid to risk assessment and the reduction thereof, and for implementing procedures for dealing with possible emergencies, including purposely-organised team training.
The management of Marnavi S.p.A. states that own activities are managed by following the criteria set by Quality, Environment standards, that the continuous enhancement of own performance in regards of Customer satisfaction, environment protection, health and safety of employers are assumed as targets.
Antifouling paint
The company ensures that hull coating of all managed vessels will be made using antifouling compounds products which are compatible with the sea environment.
Chartering
The Company ensures that the requirements laid down in charter parties are fully complied with.
The Company makes its best endeavours to prevent cargo non conformities.
Company operates ships with good standards at charterers satisfaction and in compliance with all applicable regulations/conventions.
Drug and Alcohol
All personnel belonging to our staff, both ashore and onboard is not allowed to performe any duty for the company if they are under the effect of drugs or alcohol
Energy Conservation
Our policy is to operate ships in the most efficient manner.
Company while protecting the environment, undertakes to avoid waste and conserve energy in all aspects.
This is applied in all work and operations areas.
Environment Protection
The protection of the environment is one of our primary targets.
Our ships are operated to comply with rules and conventions now in force to prevent risk of pollution of any kind.
Procedures are in place to ensure that all operations are carried out in a manner which prevent accidental discharge of pollutant.
All persons involved are request to adhere.
Halon and CFC
Company is well aware of risk relating to ozone depleting linked with the use of Halons and CFC'S. It is our target to redure/eliminate this substances on managed ships.
The existing systems which require chloro fluoro compounds are to be effectively maintained and any leagage is to early detected.
MARPOL Annex VI requirement will be closely applied.
Human Resource
Company shall provide remuneration benefits and working conditions which meet the requirements of Flag Administration and Unions Agreements.
It is company policy to get the professional satisfaction of our personnel.
It is Marnavi Spa policy that personnel engaged avoid any conflict between their own interest and those of the Company.
The Company requires that none of personnel shall engage in illegal actions.
Company will provide the personnel with adequate training course, according with flag Administration and International Conventions requirements.
In addition, Company has a program in place to provide the personnel with additional training courses exceeding statutory requirements.
Job descriptions and responsibilities of the employees shall be consistent with their knowledge, experience and training level reached.
It is company expectation that personnel will exsercise all possible diligence in assisting the management to control costs.
Noise
It is Company policy to avoid disconfort or temporary dulling of the hearing. Employees must be aware that the exposure to certain noise level and frequencies can damage the hearing.
Where ear protection notices are posted, ear plugs or muffs must be worn.
Reduce of packaging volumes
It is company policy to preserve environment ensuring a continual improvement on the prevention of pollution.
The company will implement waste reduction methods requiring to reduce packaging volumes to the suppliers.
The suppliers will be informed and required to adhere at this policy.
The application of this policy from suppliers will be an element of evaluation to remain in the company's list of preferred supplier.
Safety of Navigation
It is policy of Marnavi Spa to ensure that all managed vessels shall perform their trips in the safest manner and in compliance with all governing regulations.
Crew members are requested to do their best to avoid o prevent any incident.
Company will provide all managed vessels with modern and fully operational navigation equipment.
Procedures are in place to cover all aspects of this activity.
Cargo Handling and Custody
For the operation of all managed vessels, it is Marnavi Spa policy to strictly comply with the International Conventions, Codes and Regulations, including Port State and Flag Administration.
This ensures the health of persons involved, the safe cargo handling operations without any risk of pollution.
It is Company requirement to preserve the quality and quantity of cargoes to be carried.
Cargo custody is part of our successful business.
Emergency Procedures and Salvage
In case of any emergency, the Masters of Company managed vessels have the full authority to take any decision they deem necessary for safety reasons.
It is Company Policy to support Master in the event of any emergency.
The Company Emergency response Team will act promptly and will give all assistance required in any case to be handled.
The Company strictly adhere to IMO Resolution A443(XI), adopted on Nov. 16 th 1979 which gives to Master the overriding authority to take decisions on all HSE issues.
Lloyd's Open form (LOF 2000) is the agreement to be adopted for any reference in regards to salvage.
Exhaust Emission
It is Company policy to ensure that the quality of bunkers shipped on board meets the standard specifications and MARPOL Annex VI requirements.
Ship staff must take measures to control the level of funnel emission by effectively operate all systems which are involved in handling – processing- and burning fuels/lubes.
Company technical staff will carry out periodical check to the exhaust gas emission.
Health and Safety
The company ensure that all activities of its major areas are healty and safety.
All personnel must comply with regulation and instructions and take all precautions to protect themselves and the other persons they work with.
The company commitment includes the design, construction and ships operation.
All work spaces on board are covered.
Maintenance
It is Company Policy to maintain the managed ships in the best operating condition.
Personnel involved are required to make all efforts to ensure that maintenance of vessels is properly carried out and the relevant records are kept.
New Technology
Marnavi Spa has a program in place to ensure that appropriate personnel be trained on new technology involving the apparatus fitted or to be fitted on board the company vessels and receive from the makers adequate information on the latest improvements made.
Personnel and Training
The sense of professional satisfaction of our personnel is part of our policy.
Good and safe working conditions and remuneration benefits are our means to achieve this target.
Job descriptions and responsibilities of our employees must be consistent with their knowledge, experience and training level.
In line with Flag Administration and convention requirements, the company provides all personnel with adequate training courses.
The training program exceed the statutory requirements.
Risk Assessment
It is company policy to ensure safe work condition.
Good and safe working condition will be achieved with the preparation of a formal risk assessment.
Risk assessment will be carried out ashore and on board taking into account all new opportunity of hazard could be encountered, performing the various kind of jobs.
Another way to ensure a safe work condition is to carry out an informal risk assessment before start any kind of works.
Both risk assessment are the way to carry out all type of activity in a safe manner to minimize personal injury or death, damage to the property, pollution.
Security
Marnavi SpA make all personnel aware of the need to be vigilant to protect life, property and operational practices against armed robbery – act of violence – piracy and terrorist attack.
Company procedures and instructions are issued to comply with ISPS code and use best endeavours for the above occurrences.
---
Country ⚓

Netherlands

City ⚓

IJmuiden

Address ⚓

Westerduinweg 3 1976 BV Ijmuiden Postbus 367 Ijmuiden - The Netherlands

Mobile ✆

Phone ☎

Email ✉

Email ✉

Email ✉

Web-site 🔗
---
---
Show contacts
Apply & send application to this company
Send My CV
---