Nautilus Shipping Kochi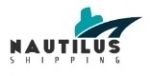 We are Nautilus Shipping. One of India's boutique providers of maritime solutions. We have over 10 years of experience and a network of 6 offices across the globe. Reason why we know what it takes to deliver excellence across Ship Management, Crewing, Ship Agency, Ship Broking, Vessel Inspections, Surveys and, Commercial Vessel Management.
A combination of an experienced and nimble-footed team and network allows us to deliver solutions that few can. And our reputation for delivering quality services with the highest levels of friendly professionalism is, well, legendary to say the least.
We constantly seek to sustain our industry leadership by creating a workplace where our people can chase their passion for seafaring and sea-vessels. Our belief in a set of values means that we respect our clientele and also, earn their respect. We could go on, and on. Suffice to say, do discover the difference that we at Nautilus can make to your business. Get in touch with the seafaring experts today.
We are registered Recruitment & Placement agency authorised by Director General of Shipping, India, holding license No. RPSL-CHN-012, valid till 16th Dec 2018 and in compliance with Maritime Labour Convention 2006 certified by IRS Class. Nautilus is accredited ISO 9001:2008 certified from IRQS.
Our origins as a business can be traced back to our beginnings in crew placement and management.
We completely understand the importance of qualified crew that is always at the forefront of all activities and is the key to a vessel's safe and smooth day-to-day operation. In addition, safeguarding the vessel's and the owner's interests requires a highly efficient utilization of the crew. We maintain one of India's largest pools of highly qualified, motivated and, dedicated seafarers that fulfill these needs efficiently. Through our own crewing offices in India- Chennai, Goa, Mumbai and, Kochi.
We offer crew supply services on a lump sum basis for any type of vessel. We use modern search and selection methods to ensure that our employees not only have the required professional qualifications, but also have the required personality. In addition, we are fully committed to the professional development and education of all staff. Our crew management services include recruitment, selection, training and management of officers and cadets and rating them for deployment on a wide range of vessel types.
We maintain a state of the art database management system and crewing module developed using advanced information technology systems that keep track of all our seafarers. This repository of data helps in sourcing of relevant crew to match requirements of different ships. Our specific services include:
Planning – screening, processing, recruitment and placement onboard
Accounting – payroll and allotments
Performance – performance appraisal and KPI report
Training – Shore-based training of crew (classroom and simulators) at Nautilus's Training Centers after training need analysis and mapping using structured training methods, value added courses, etc.
Full or partial crew management for all types of vessel
Onboard training of ship's crew including CBT (computer-based training)
---
Country ⚓

India

City ⚓

Kochi

Address ⚓

CC1/1587 C, SNDP Vanitha Memorial Building, Thamaraparambu, Fort Cochin- 682001

Mobile ✆

Phone ☎

Email ✉

Email ✉

Email ✉

Web-site 🔗
---
---
Show contacts
Apply & send application to this company
Send My CV
---