Nesskip hf.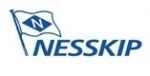 Wilson owns the Icelandic company Nesskip hf. which has served the heavy industry in Iceland since the late seventies. The company is a leading carrier in the Icelandic bulk trade, e.g. ferrosilicon, fishmeal, pumice, cement, scrap, salt, coal, gravel, timber, steel products and various construction materials.
Wilson and Nesskip originally formed their working relationship in 1977, when the first Nesskip vessel joined the Wilson fleet of vessels. This persistent working relationship has gradually grown through the years and today Wilson owns the company and four Nesskip bulk vessels form part of the large Wilson fleet.
Wilson's market position in Iceland is secured via Nesskip as a marketing channel.
Nesskip was founded as a shipping company 27th January 1974 by group of individuals.
The First Ship
The company?s first ship was purchased 1st February 1974 and named Sudurland. Year later the ship was converted for transporting chilled salted fish to the Mediterranean Sea. For a long period of time Nesskip operated two ships carrying chilled salted fish.
The Second Ship
Nesskip?s second ship was purchased in 1976 and was named Vesturland. The ship mostly carried fishmeal in bulk from Iceland and building material inbound. The third ship was purchased in 1977 and was named Isnes. The forth ship was purchased in 1979 and named Selnes. Both these ships were specialised bulk carriers.
Expansion
With the establishment of Icelandic Alloys in Grundartangi 1978 the activity of Nesskip increased considerably following Nesskip being awarded a contract carrying most of their raw materials and products. The cooperation between Icelandic Alloys and Nesskip has been fruitful throughout the years with Nesskip still transports most of their cargo?s.
The Fifth Ship
The fifth Nesskip ship was purchased during spring 1981 and named Akranes. The carrying capacity of Akranes was 7.500 tons and at the time the ship was the largest in the Icelandic fleet of ships. Following the purchase of Akranes Nesskip?s transportation activities outside Iceland increased considerably and the Akranes is the only Icelandic vessel having sailed around the world in 1985.
EuroCarriers Become a Majority Stakeholder
In 2006 a long time cooperation partner of Nesskip, Wilson EuroCarriers in Bergen became majority shareholder in the company. Following the Wilson ownership the Nesskip fleet of vessels was fully integrated into the Wilson fleet which consists of over one hundred ships.
New Offerings
Transportation of pumice, salt, fishmeal and fish oil have always formed a big part of Nesskip?s activity in Iceland. Exports of scrap cargo?s have increased in recent years as well as transportation for the aluminium industry.
The operations of the company have gradually increased throughout the years with Nesskip being a leading company in Iceland in ship broking, agency services and consultancy.
---
Country ⚓

Iceland

City ⚓

Reykjavik

Address ⚓

IS-170 Seltjarnarnes (Reykjavik) Iceland

Mobile ✆

Phone ☎

Email ✉

Email ✉

Email ✉

Web-site 🔗
---
---
Show contacts
Apply & send application to this company
Send My CV
---