ROMOR PHU Crewing Company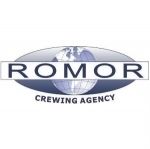 We are ROMOR PHU Roman Glowczynski Patryk Zuzanski s.c. Crewing Company, established in 2000 and FULLYLICENCED for crewing services by Polish Government. Our actual CertificateNo. 550/1b, is dated on 14.03.2004 and issued by Polish Ministry of Labour AndSocial Policy. To see our certificate click here.We are a member of APMAR (Association of Polish Agents andShipowners' Representatives), representative of IMEC in Poland.
Our Company's mission is to provide very qualified and experiencedPolish Seafarers, who fullfil all the needs and expectations of ourClients.
Candidates from ROMOR are extensively interviewedand all efforts are made to select suitably qualified and experiencedcrew members, who meet the following requirements:
Crew members are qualified with the respectivecertificates of Competency, which are valid for at least one year andduly endorsed as per requirements of the International Convention onSafety of Life at sea (SOLAS-74) and its amendments of 1981/83,86,89,91the International on Standards of Training, Certification and watchkeeping for Seafarers 1978/95 (STCW- 78/95), resolution19,ILO/INO Documents for Guidance and have a valid Seaman`sIdentification Card.
The Masters, Chief Officers and Chief Engineersare proficient in oral and written English. Officers and Engineers havea good command of and are able to converse and give commands inEnglish.
All crew members have successful pre-employmentmedical examination and hold medical certificates as per internationalstandards.
Thanks to our experience we are able to mediate in proceeding all formalities necessary to obtain visas, health certificates, flag documents for seafarers.
ROMOR PHU ROMOR PHU has been present on the maritime market since 2000. Having been authorized by National Employment Agency in 2002, ROMOR PHU branched out into employment agency for Mariners. In 2004 we extended the scope of our service, as ROMOR PHU was signed up for the employment agencies registry by the Ministry of Economy, Labour and Social Policy as an agency providing overseas sea service for mariners. Currently, we operate on the basis of the certification released by the Marshal Office of Pomeranian province (register no 550) as well as the certification affirming full compliance with the MLC Convention 2006, obtained from the Director of the Maritime Office in Gdynia.
The prime objective of our company is to recruit and employ most qualified and experienced mariners on behalf of foreign shipowners. It is a top priority for us to verify records of applying mariners and ensure that their qualifications meet the requirements and standards of the shipowners.
ROMOR PHU cooperates only with prestigious shipowners from Germany, UK and Singapore, being cautious whether the offered conditions do not violate any international standards, conventions and mariners' rights.
All Seafarers employed through our agency posses high qualifications and documents confirmed by the National Administration, as well as rich and solid experience verified according to employer's needs.
Making every effort to retain our position on the market and be up to date with latest regulations and standards, we hold memberships of two most renowned associations: APMAR - Association of Polish Marine Agents and Shipowners' Representatives in Gdynia and EUROCREW.
---
Country

Poland

City

Gdansk

Address

Uphagena 10 80-237 Gdansk Poland

Mobile

Phone

Email

Email

Email

Web-site
---
---
Show contacts
Apply & send application to this company
Send My CV
---