Rusich LTD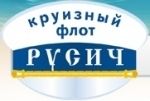 "The cruise fleet" Rusich "is a group of companies" Express Tour "officially presenting the tourist company" Express Tour "(Perm) in the central region of Russia. The tour operator LLC" Express Tour "Implemented in business since 2000, . Since the company's inception to the present day river cruises on Russia are the main type deyatelnsti. Ltd. "Quick Tour" in the registry for errors worn in summer under №VNT 007,024.
OOO "Express Tour" is the owner of two ships: "Mother Russia" and "Great Russia". Ship "Mother Russia" primarily serves tourists on rivers such as the Kama sredneya and the lower Volga. Ship "Great Russia" a great many qualities of the ship. "Great Russia" provides a unique direct flights to Solovetsky Islands Direct direct passage on the White Sea. Also navigating the ship in 2014 will come out in the Sea of ??Azov and the Black Sea will be visiting cities such as Yeysk, Novorossiysk.
The emphasis in the organization of leisure on the boats we do on the excursion program, revealing new facets of familiar routes.
In the office of "Rusich" and OOO "Express Tour" you can always get the most detailed information about the conditions of your tour. You do not just buy a ticket. You can simply take the information and at home, with family, not hurrying to explore our offers, prices, programs, schedules, and make a final decision. Book a tour You can call and within three days to redeem your voucher. We value our customers. You will NEVER be offered unchecked tour or tour at an inflated price.
For convenience and to save customers time travel paperwork procedure is automated. Tourists get your hands on the next set of documents: turputevku (form TUR-1), an agreement on tourism maintenance, memo, documents of payment (credit order with cash, invoice with non-cash payment) and other documents depending on the particular design of a particular tour - boarding pass voucher. We guarantee you the most thorough and accurate approach to the organization of your trip. Thank you for your confidence in our company and our fleet.
Developing promising initiatives of past years, introducing new information technologies, analyzing all the proposals and wishes of our corporate clients, we develop more and more new programs and projects. But it remains unchanged is our main principle: "Every client for us - it's not just a tourist, a dear guest, to which should be given only the best." It does not matter whether the tour booked in an expensive luxury hotel, or a preferred embodiment of economical recreation. The main thing we have to justify the high confidence of our customers, to provide the full range of services at a good level of quality, and made our main goal - the client is completely satisfied with the trip. And for that, we will make every effort, experience and professionalism!
---
Country ⚓

Russia

City ⚓

Moscow

Address ⚓

101000, Moscow, ul.Maroseyka, 9/2, p. 1 of.6 / 5, 2 entrance, intercom lower (Code 8)

Mobile ✆

Phone ☎

Email ✉

Email ✉

Email ✉

Web-site 🔗
---
---
Show contacts
Apply & send application to this company
Send My CV
---