SAMMAS Co., LTD Agency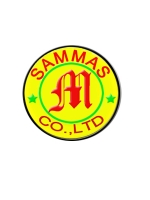 Sammas is a qualified Myanmar seafarer and overssea shore worker supplier. Operated and managed by Capt Aunt Khine/Capt Thein Win/Capt MgSoe / Capt Soe Naing / C/E Hla Kyaw/ ETO Min Thein
We are pleased to introduce ourselves SAMMAS Co., LTD is an international workers supplier, headquartered in Yangon, Myanmar. We provide skilled & semi-skilled workers for technical fields, especially for agriculture, construction, Mechanical and Electrical engineering. We also provide general workers. We are providing professional services to serve our clients totally to get customer satisfaction.We do our best to meet the requirement of the employers and the need of the workers'.
Their success is our Company's first priority. To be morally responsible is our underlying ethical principle as a Mediator between recruiters and the job seekers in order to be reliable and countable agency for all over customers in the long term. In the field of manpower services, we provide the skilled and unskilled workers recruitment abroad for the local people in the following sectors and industries under the supervision of the Department of Labour.
We also provide the any level of seaman such as master, officers, engineers, and Crews, etc. under the guidance and supervision of Seaman Employment Control Division (S.E.C.D) of department of marine administration (D.M.A), ministry of transport. We have confidence and many experiences.
The company is committed in promoting and expanding services all over the world. So, we are looking forward for your cooperation.
Additionally we have a team of Master, engineer and also a dedicated staff who can manages the discharge, loading operation of vessels with smoothness and fastest turnaround time.
OUR VISION
SAMMAS Agency's vision is to be a world class organization through excellent both people and services committed to continually expanding by getting the total customer satisfaction.
---
Country ⚓

Myanmar

City ⚓

Yangon

Address ⚓

Bld (276), Rm (1), Yan Aung Lane (8), No-2(Q),Yankin T/S, Yangon, Myanmar

Mobile ✆

Phone ☎

Email ✉

Email ✉

Email ✉

Web-site 🔗
---
---
Show contacts
Apply & send application to this company
Send My CV
---