TB Marine Shipmanagement GmbH & Co. KG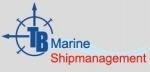 The company manages a fleet both of its own tonnage and on behalf of third parties. The company undertakes the full suite of services, including commercial, operations, technical, nautical, crewing, safety & quality, IT and financial / accounting under one roof in Hamburg.
TB Marine is a specialist for the transportation of liquid oil, products and chemicals. The company was founded in 2005, respectively the Shipmanagement company in 2007, by Steffen Thate and Stephan Bracker (TB).
Since then, the company has grown to a medium-sized niche player in the energy market with technically highly sophisticated vessels serving the transport needs of all major oil companies and oil traders. Bulkers and containerships will join our investment strategy and management this year.
The company is fully recognized in the tanker industry for fulfilling the highest management standards (TMSA = Tanker Management Self Assessment) and for being able to sign contract of affreightments. Short-term or medium-term time charter employment or direct pool participation ensure constant income at the high end of the markets.
The senior management of the company has long-term experience in the industry with top ratings.
It's all about timing, qualification, gut feeling and the right partnership.
TB Marine is known to our owners, investors, banks and clients for full management, including 3rd party technical management. We are cost effective, reliable on budget predictions, forecasts and always in time to present nautical and technical solutions and to cope with the steadily increasing demand of the industry.
Our Nautical & Technical department ensures full support on each vessel. Full maintenance planning, spare parts logistics and purchasing by continuity and quality. 24/7 responsibilities of our Nautical & Technical department are complemented by extensive certification work regarding classification and flag states as well as consistent security, safety, quality and environmental management.
It's all about our staff on board and ashore to keep the vessels well maintained. Full management reports are available quarterly, including periodical docking reports.
---
Country ⚓

Germany

City ⚓

Hamburg

Address ⚓

Paul-Dessau-StraBe 6 22761 Hamburg Germany

Mobile ✆

Phone ☎

Email ✉

Email ✉

Email ✉

Web-site 🔗
---
---
Show contacts
Apply & send application to this company
Send My CV
---