Topaz Marine Azerbaijan BUE Caspian Ltd.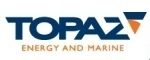 Topaz Energy and Marine is a leading offshore support vessel ("OSV") company providing marine solutions to the global energy industry with primary focus on the Caspian, Middle East, West Africa and Subsea operations in the North Sea and Gulf of Mexico. Headquartered in Dubai with 40 years of experience in the Middle East, Topaz operates a fleet of more than 90 offshore support vessels of an average age of 7 years, well below the global average of 15 years. Topaz is a subsidiary of Renaissance Services SAOG, a publicly traded company on the Muscat Securities Market, Oman.
Operating a modern and technologically advanced fleet, Topaz offers services such as anchor-handling, platform supply, emergency recovery and response, and crew transfer to many blue-chip clients in the offshore oil and gas industry.
Topaz's client list includes prominent international and national oil and gas companies such as BP, Saipem, Shell, Total, Saudi Aramco, Occidental Petroleum, Statoil, Maersk Oil as well as other offshore services companies of international standing. Topaz's track record of operational delivery and reliability has yielded major, consistent contract awards, and long-term relationships with many of these clients.
A younger and more advanced fleet supports Topaz's competitive advantage and is a key factor behind our high historical utilization rates. The age and specification of our vessels, particularly regarding standards of safety and reliability, is of increasing importance to our customers as energy production becomes more challenging in harsher offshore environments.
Through a strategy of diversified exposure to short and medium term contracting in the MENA and West Africa regions and the medium and long-term contracting environment of the Caspian, Topaz has shown continued grown and profitability. In 2013, revenue and EBITDA increased by 22% and 17%, respectively. Topaz expects to continue to modernize and grow through 2014 and 2015 by optimizing the utilization of our current fleet and through a selective vessel acquisition and build programme, with a view to expanding our operations into new potentially high-growth regions in the offshore energy industry.
As a company employing over 1,700 staff, attracting and retaining global talent remains one of our highest priorities and is pivotal for realizing our ambitions and building sustainable competitive advantage. Our emphasis on high-quality personnel and our strategic focus on maintaining a younger fleet has resulted in an excellent HSE track record, with zero lost time incidents in 2013. Operating across diverse geographies, and working in arduous conditions, the protection of our employees, assets and the environment is always paramount.
As a world-class, internationally competitive offshore services company, Topaz is committed to doing business ethically, profitably and safely. We work consciously and diligently to deliver the quality of service our clients expect, while continuously improving our standards in health and safety, good governance and social responsibility. It is Topaz's goal to maintain a sustainable growth and profit record along with a proven ability to improve the economic well-being and quality of life of all of our stakeholders.
---
Country ⚓

Azerbaijan

City ⚓

Baku

Address ⚓

3rd Floor, Gurban Khalilov Street 3 Yasamat District, Baku AZ1006 Azerbaijan

Mobile ✆

Phone ☎

Email ✉

Email ✉

Email ✉

Web-site 🔗
---
---
Show contacts
Apply & send application to this company
Send My CV
---