Zamil Offshore Services Company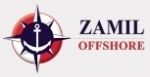 Al-Zamil Brothers founded "ZAMIL Offshore Services" in 1977 as a 100% Saudi Limited Liability Company working in diversified marine business fields. Now, and after 30 years in the offshore and marine business, Zamil Offshore Services became the largest Offshore Marine services company in the Middle East. Currently its scope of services covers; offshore shipbuilding, ship & rig repair, offshore marine services, ship chandelling, ship chartering, Offshore Hook-up projects, and seaports operation and management. From its inception Mr. Zamil Al-Zamil was appointed president of the company.
Upon the establishment of Zamil Offshore Services, it started in the business by acquiring new and used offshore vessels, chartered them to Saudi ARAMCO, operated them and succeeded in making the necessary maintenance, repair, and conversion for its entire fleet. Gradually it succeeded in expanding their fleet in 30 years to 55 vessels, and now most of the vessels are in long term charter agreement with Saudi Aramco.
The company has been change to closed stock holding company, Mr. Zamil Al Zamil is the chairman and Mr. Sufyan Al Zamil is the President.
ZAMIL OFFSHORE Services Company
Offshore Support Fleet Owners & Operators,
Ship Charterers,
Ship Chandlers,
Engineering and Construction Services Contractors,
Offshore Shipbuilders, Ship & Rigs repairers &
Sea Ports Operators
Zamil Offshore Services was founded in 1977 as a 100% Saudi Company working in diversified business fields. Its scope of work covers; offshore marine services, ship chandelling, ship chartering, Offshore Hook-up projects, offshore shipbuilding, ship & rig repair and sea ports operation and management.
Marine Operations division
This division is now renowned as one of the largest specialized offshore and marine services providers in the Middle East. It owns and operates the largest specialized offshore Fleet in the Arabian Gulf. Most of its fleet vessels are in long-term charter to Saudi Aramco, and few are in short term charter to companies in Qatar and UAE.
Its fleet is expanding and will reach 55 vessels by mid 2009 (Currently we operate 46 vessels and have 9 more vessels under construction in Saudi Arabia and China); Our fleet vessels include; Anchor Handling AHTSS vessels, Supply vessels, Utility boats, Workboats and Crew boats. Zamil's fleet vessels average age is less than 5 years.
Shipbuilding, Ship & Rig Repair division.
This division manages and operates Zamil shipyard located inside Dammam port. Zamil shipyard facilities spread over 121,400 square meters with 500 meters waterfront. The yard has a ship lift, which can handle vessels up to 1500 tons, 80 meters in length and 15 meters in breadth. The ship lift transfer system stores the vessels on 9 dry berths. Its 750 highly skilled workers enable it to undertake any building, repair or conversion job, survey work, regular hull and engine servicing and damage repair.
For almost three decades, Zamil shipyard was working in the maintenance, repair and conversion of offshore vessels and in 2002, it ventured in shipbuilding and since then it became the premier and only shipbuilder in the kingdom.
Now, it is considered one of the significant shipbuilding and ship repair yards on the Arabian Gulf. It has built and delivered 19 vessels in six years; 3 harbor tugs, one pilot boat for the Saudi Sea Ports Authority, 2 offshore utility vessels and 9 state of the art Diesel-Electric anchor handling tugs/ supply/ safety vessels, one diving support vessel and 3 Rolls Royce UT 733-2 AHTS vessels for own fleet.
The outstanding performance of the Zamil Diesel-Electric class & the Roll Royce AHTS vessels which have been delivered to work with Saudi Aramco in their offshore oil fields in the Arab Gulf, encouraged Saudi-Aramco to charter all Zamil built vessels in long term contracts.
In addition to the current building program, Zamil Shipbuilding has signed a contract with Rolls Royce Marine to build under license agreement, more Anchor Handling vessels of the UT 733-2.
Zamil shipyard order book includes also; one buoy handling vessel and 3 tugs for the Saudi Ports Authority, 2 tugs for the Saudi Royal Navy and one diving support vessel for Saudi owner.
Zamil shipbuilding order book is full with building orders up to mid 2012.
Engineering & Construction Services division.
division is working in the specialized field of offshore Hook-up projects with Saudi ARAMCO. Its contract is for seven years, for the Maintenance, Upgrade, Modification and Commissioning Support for ARAMCO's rigs and platforms in the Arabian Gulf.
Sea Ports Operation division.
Zamil Offshore operates the navigation and pilotage at King Abdul Aziz Port in Dammam, serving about 2400 vessels calling annually. It operates the navigation tower and 9 harbor tugs, 2 pilot boats, one fire boat and one oil skimmer, one floating crane and one garbage collection barge.
---
Country ⚓

Saudi Arabia

City ⚓

Al-Khobar

Address ⚓

P.O. Box 1922 Al-Bandaria, Al-Khobar 31952, Kingdom of Saudi Arabia

Mobile ✆

Phone ☎

Email ✉

Email ✉

Email ✉

Web-site 🔗
---
---
Show contacts
Apply & send application to this company
Send My CV
---