Excelerate LNG Development UAE, LLC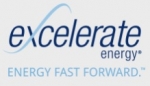 With a track record of accomplishment and innovation, Excelerate Energy is the recognized leader in floating LNG regasification solutions. Since our company's founding in 2003, we have demonstrated an unrivaled ability to turn our partners' challenges into opportunities. In fact, we have delivered more floating LNG solutions than any other provider.
Excelerate Energy L.P. (Excelerate) is a US-based LNG company located in The Woodlands, Texas. Excelerate is the pioneer and market leader in innovative floating LNG solutions, providing integrated services along the entire LNG value chain with an objective of delivering rapid-to-market and reliable LNG solutions to customers. Excelerate offers a full range of floating regasification services from FSRU to infrastructure development to LNG supply. Excelerate has offices in Abu Dhabi, Buenos Aires, Chittagong, Dhaka, Doha, Dubai, Rio de Janeiro, Salem, Singapore, and Washington, DC.
We are the pioneer and world leader in innovative LNG midstream solutions.

At Excelerate Energy, our name is synonymous with dynamic, innovative leadership in the floating LNG sector. From the beginning, our philosophy has been to utilize proven technology innovatively to respond to the changing needs of the market.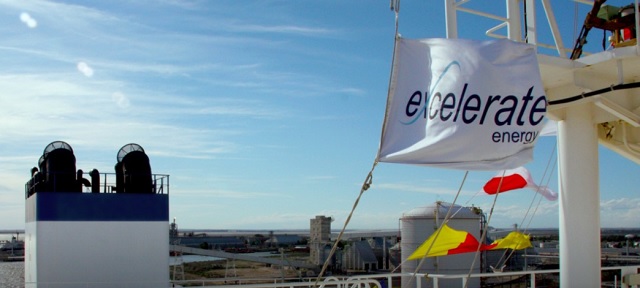 ASSETS
Commercial control of over $3 billion in assets
Operator of the largest fleet of floating storage and regasification units (FSRUs) in the industry
ACHIEVEMENTS
Delivered the first FSRU to market, the Excelsior.
Pioneered ship-to-ship transfer of LNG
Developed first deep-water and dockside LNG import terminals in the industry
Developed the first LNG import terminals in South America, Kuwait, and Pakistan
OPERATIONS
Facilities are manned 24/7 with specialized personnel
Excelerate has the most experience of any company in the development, permitting, and installation of offshore and near shore regasification facilities
We work with local government and environmental agencies to ensure projects:
Meet or exceed all local and international standards for construction and operation
Operate in a safe, reliable manner with minimal environmental impacts
With detailed planning and management, we achieve availability rates as high as 100% xx
FLEET
Our experience helps us achieve predictable outcomes for our client-partners, providing for the safe, efficient flow of energy.
As the owner and operator of one of the largest fleet of floating storage and regasification units (FSRUs) in the industry, Excelerate Energy has accumulated substantial expertise in floating LNG system integration and operation. Excelerate's FSRUs, are purpose-built LNG tankers that incorporate onboard equipment for the vaporization of LNG and delivery of high-pressure natural gas. These vessels load in the same manner as standard LNG tankers at traditional liquefaction terminals and also retain the flexibility to discharge in three distinct ways. These are:
As a liquid at a conventional LNG receiving terminal;
As a gas through the FSRU's connection with a subsea buoy in the hull of the ship; and
As a gas through a high-pressure gas manifold located forward of the vessel's LNG loading arms.
EXCELERATE ENERGY'S FLEET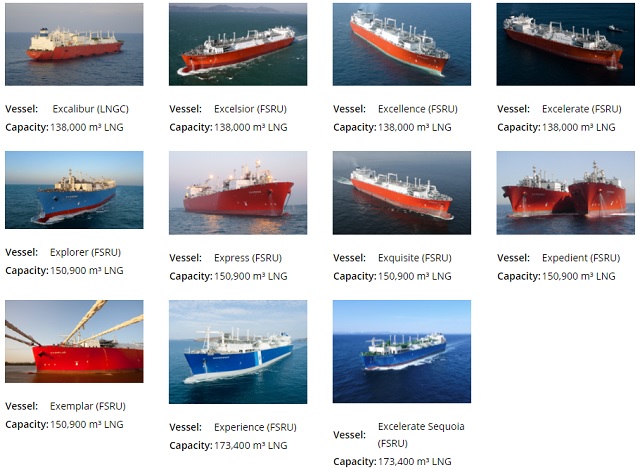 To accomplish the task of offshore LNG vaporization, our FSRUs may be operated in one of three ways:
Closed-loop mode, in which steam from the FSRU boilers is used to heat fresh water circulated through the shell-and-tube vaporizers in the regasification plant. This results in minimal usage of seawater by the FSRU;
Open-loop mode, in which relatively warm seawater is drawn in through the FSRU's sea chests. This warm seawater is used as a heat source and passed through the shell of the shell-and-tube vaporizers, causing the vaporization of the LNG. During this process, the temperature of the seawater is lowered by approximately 13 degrees Fahrenheit (7 degrees Celsius). For this reason, the open-loop mode is not applicable for water temperatures below 45 degrees Fahrenheit;
Combined mode, in which seawater at temperatures between 45 and 58 degrees Fahrenheit can be used when heated by steam from the FSRU boilers to provide sufficient heat for the vaporization of the LNG.
Even though our FSRUs are constructed with preset regasification capabilities, all of our vessels can be modified to provide increased regasification rates to meet the specific requirements of our customers.
---
Country ⚓

United Arab Emirates

City ⚓

Abu Dhabi

Address ⚓

Sky Tower – 23rd Floor Al Reem Island PO Box 107709 Abu Dhabi UAE

Mobile ✆

Phone ☎

Email ✉

Email ✉

Email ✉

Web-site 🔗
---
---
Show contacts
Apply & send application to this company
Send My CV
---