InnovOcean Maritime Pvt. Ltd.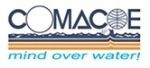 Coastal Marine Construction & Engineering Limited (COMACOE) is an ISO certified company, providing high quality, integrated services to the onshore and offshore Oil & Gas, Ports and Marine Infrastructure Development sectors through its 4 business verticals.
Over the past 17 years, COMACOE has steadily evolved into a US$ 60M, offshore services provider providing synergistic services in the Oil & Gas and Marine Construction domains. COMACOE has developed an enviable track record of executing complex projects successfully across geographies, globally.
Regular investments in capacity building and leveraging the expertise have resulted in impressive double digit year-on-year growths. An aggressively cautious, bold but calibrated approach has lead to transnational growth with projects for leading multinational clientele being executed in Kazakhstan, Qatar, Iran, Iraq, UAE, Sudan, Vietnam, Malaysia, Brunei, Mexico, Mozambique and Tanzania.
COMACOE GeoSciences: Integrated solutions provider for onshore & offshore surveys, surface and subsea positioning services, geophysical, geotechnical and foundation engineering, ROV services to the Oil & Gas and Marine Infrastructure sectors.
COMACOE Marine Infra Projects: EPC execution of a wide range of marine construction and infrastructure projects including seawater intake and outfalls, microtunneling with subsea recovery, dredging, pre & post trenching, diving, pipelaying (CS, HDPE,GRP), near shore construction, piling etc for the oil and gas, port and marine infrastructure sector.
COMACOE Ports & Terminals: O&M of marine infrastructure such as SPMs, Ports and Pipelines. Intervention works for SPMs and pipelines including class approved "Under Water Inspection in Lieu of Dry Docking" (UWILDD) services.
COMACOE Marine Assets Management: Operated through wholly owned subsidiary "Innovocean Maritime Pvt. Ltd" for manning and technical management of marine assets.
COMACOE owns and operates its own fleet of marine spreads for meeting the requirements of its various offshore operations. These spreads include dynamically positioned vessels, multipoint mooring vessels and barges, dive support vessels, utility vessels and tugs, flat top transportation barges, crane and accommodation barges, spud barges, jack-up barges of various sizes and capabilities.
Specialties
Intake and outfall pipelines, SPM O&M and Diving, Geophysical Surveys, Subsea Pipelines, Post & Pre Trenching, Geotechnical Investigations, Underwater Piling.
---
Country ⚓

India

City ⚓

Mumbai

Address ⚓

C3 Cube Building, Mira Bhayander Road, Mira Road East, Thane 401 107

Mobile ✆

Phone ☎

Email ✉

Email ✉

Email ✉

Web-site 🔗
---
---
Show contacts
Apply & send application to this company
Send My CV
---