Sikimic Marine Services SMS Agency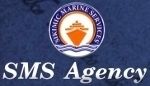 We are a manning agency from Herceg Novi, Gulf of Kotor on the south of the Adriatic coast in Montenegro. The agency is part of ex Yugoslavian maritime centre with a long and rich tradition. The SMS Manning Agency was founded in 1993, since (when) it has been constantly developed both in the sense of our disposal with a choice of seamen and our managing experience, resulting in a stabile and reliable office.
The office was established and managed by Capt. Sikimic Spiro with team of his selected dynamic and self-motivated assistants.
Capt. Sikimic was born in Herceg-Novi, Gulf of Kotor, Montenegro in 1955, attended Maritime high school in Kotor from 1970, then graduated in 1974 and started as Deck Officer Cadet ship with Jugooceanija Kotor on General cargo Ship.
He obtained Deck Officer's License, 1975, at school for Maritime Studies in Kotor. After one year service as Deck Officer commenced Nautical College (studies) in Kotor and completed in 1979.
One-year Military Service was completed in Navy - Pula and Split, 1979.
After that, he joined Ermefer, Geneva, as Deck Officer on tanker vessels.
In 1980 obtained Master's License, and then joined Alpaca shipping, Monte Carlo as Deck Officer on Tanker vessels.
In period from 1985 to 1987 was employed in Adriatic Shipyard Bijela, where acquired experience in shipyard business.
From 1987 to 1993 was employed with Thome Shipmanagement and Grunstad Boca Raton in position of Ch/Off and Master.
In 1993 started own manning agency - Sikimic Marine Services, SMS Agency.
The SMS disposes with a good choice of quality experienced, reliable deck-engine officers and crew, flying repair-maintenance teams for all types of vessels. In our cooperation with ship managers and owners we may say our prior policy is to propose for any (particular) required position only those candidates for whom we can guarantee that will satisfy all the requirements and standards, always taking care that all the candidates are well checked and carefully selected to meet ISM and STCW 95 requirements.
---
Country ⚓

Montenegro

City ⚓

Herceg Novi

Address ⚓

Ustanicka 1, 85340 Herceg Novi Gulf of Kotor - Montenegro

Mobile ✆

Phone ☎

Email ✉

Email ✉

Email ✉

Web-site 🔗
---
---
Show contacts
Apply & send application to this company
Send My CV
---