Vertex Infosoft Solutions Pvt. Ltd.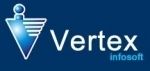 Vertex Infosoft Solutions Pvt. Ltd. is registered with Software Technology Parks of India (STPI) as 100% Export Oriented Unit based at India. We provide Software Products, Customized Software Development and Information Technology related Services to Shipping companies. We have a strong and highly skilled team of more than 80 Staff Personnel consisting of Software Developers, Quality Analysts, Marine Engineers, Hardware Professionals and Technical Support Engineers who possess many years' worth of skills.
Our Planned Maintenance Software titled "SMMS – Ship Maintenance & Management System" is currently running on more than thousand vessels worldwide. We strive to provide all our clients with uncompromising quality in Software Applications and Technical Support. In addition to development of our own line of Software Products, we also provide Customized and Turn-Key solutions to our clients.
Technical Services are available for studying and establishing databases for various types of Ships for use with SMMS. We have highly experienced, sea going Master and Chief Engineer in our team for this service. We specialize in creating Maintenance Data for Ships or converting data from existing PMS software for use with SMMS software
SMMS has been specially designed keeping in view the limited time and computer literacy available with the sea-going and shore-based staff. Very simple step-by-step Wizard Forms support most features of SMMS, so that no important information is missed out while reporting Work Done, Raising Requisitions, etc. Care has been taken to enable maximum functionality with minimum effort on the user's computer screen. For making the end user fully conversant with various features of SMMS and to extract maximum productivity out of the software, several training schemes are available:
Off Shore Trainings
We have very competent trainers in our staff who are available to impart training on SMMS Software onboard ships at sea and also in offices around the world. Get in touch with us for details.
anchor
On Shore Trainings
A comprehensive training course covering all the features of SMMS software including Data Transfers is available. Clients may come directly to our Training Centre located in Mohali, Punjab, India. The training course is 2 days in duration for the SMMS Ship Version of the software, and 4 days in duration for the SMMS Office Version. Boarding and lodging arrangements are available close to the training centre. Further details in this regard are available by contacting us. Clients may also request personnel to visit their office to train employees in the use of SMMS. Further details for this are available by contacting us.
---
Country ⚓

India

City ⚓

Mohali

Address ⚓

Plot No. 526, Sector-82, JLPL Industrial Park, Mohali - 160055, Punjab. India.

Mobile ✆

Phone ☎

Email ✉

Email ✉

Email ✉

Web-site 🔗
---
---
Show contacts
Apply & send application to this company
Send My CV
---