Vita Maritime Ltd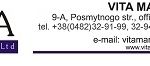 We have an honour to introduce "Vita Maritime Ltd", one of the most progressive Crew Manning agencies in Ukraine, located in the city of Odessa, the main concentrated point of marine human resources in the Black Sea and Mediterranean area.
The accumulated experience of over 15 years in crew manning business (since its foundation in Ukraine) led us to the establishment of "Vita Maritime Ltd" which was inspired and willingly supported by our good Principals and Clients with whom our crewing company have successful, fruitful and long-lasting co-operation. Our mission is to provide professional and competent crew manning services to Shipowners/Managers which will support and encourage safe and efficient ship operation, as well as to help Ukrainian qualified marine officers and crew to realize their high potential and knowledge and to find stable and permanent job at sea.
The years of crew selection and fulfilment of crew requirements have equipped us not only with experience and knowledge but also with vast and constantly updated pool of dedicated, competent and motivated Ukrainian seafarers who are recognized as among the best in the world due to their wide experience on different types of foreign Shipowners' vessels, their abilities, skills and high level of professional education. Our manpower pool is a product of the finest maritime educational establishments in Ukraine, among which is the world-famous Odessa National Maritime Academy with annual graduation of about 1000 specialists, Odessa Maritime University and other 5 Maritime Universities and 20 maritime colleges.
Our crew manning agency supplies our Clients with well-experienced and highly qualified marine specialists from single officer to full crew for Container Carriers fm 300 up to 9500 TEUs, Bulk Carriers (Panamax, Cape Size, Live Stock etc.), MPP and DR CRG, Coasters, Reefer, RoRo/PCC, Chemical Tankers and others, and we will be happy to expand our business having enough potential and facilities for that.
The quality of our service has been confirmed by an ISO 9001/2000 certificate issued by the Bureau Veritas and we review our quality policy regularly.
Willing to have long-lasting and reliable relations with our Principals, as well as good reputation in the Marine Manning market, the crewing company "Vita Maritime Ltd" does an extremely thorough and professional selection of the seagoing staff.
All of our officers and crews are carefully screened to meet the specific requirements of Owners and vessel types. Extensive interviews and testing techniques are undertaken to ensure you will have competent, highly trained and reliable ship's personnel, which include:
Pre-employment interview, aimed to verify seafarer's experience, competency, character and personality, potential and fitness. The seafarer's qualifications and sea-service are cross-referenced with past employers, government agencies and other organizations to ensure they are true. Additionally, the seafarer's professional attitude and psychological behavior are assessed through our personal interviews.
Check up the validity and authenticity of seafarer's certificates in compliance with STCW '78/95 CODE, IMO requirements and ISM CODE.The verification methods we use make certain the seafarers we supply possess the training and skills as stated in their certificates and licenses.
English language level test.
Medical examination including drug/alcohol test provided by the biggest and duly licensed Ukrainian Marine Medical centre.
Familiarization with the Principals' policy and "Safety Management System".
And although technology has greatly increased our efficiency over the past few years, we are NOT a web-based business. We are a people based business, with real Crew Placement Coordinators, the devotees of their job, who INTERVIEW, who LISTEN, and who SCREEN.
As soon as our candidates are approved by the Principals, the crewing company "VITA MARITIME LTD" ensures such pre-departure arrangements as:
seaman's entry, business and working visas,
booking of air tickets (including charter flights),
bus, railway, car transfers within Ukraine,
Flag State License Applications (depending on the flag of the vessel),
supply with the working clothes and uniform with Principal's logo (upon Principal's request).
Human resources at sea are an essential element in ship operation and our crew manning agency take our obligations towards providing Quality services to support your Safety and Environmental Protection policies very seriously.
---
Country ⚓

Ukraine

City ⚓

Odessa

Address ⚓

Ukraine, Odessa, Posmytnogo str. 9-A, app 32.

Mobile ✆

Phone ☎

Email ✉

Email ✉

Email ✉

Web-site 🔗
---
---
Show contacts
Apply & send application to this company
Send My CV
---