Aries Marine Corporation, a privately held Louisiana Corporation, was formed in early 1981 by Dwight S. Ramsay to own and operate in the Gulf of Mexico self-elevating workboats and supply vessels. Currently, there are 26 vessels in the fleet.
Aries Marine is headquartered in Lafayette, Louisiana and maintains a sales and warehouse facility in nearby Youngsville, Louisiana. Aries Marine employs over 300 people.
Position: Captains. Liftboat Applicants.
All Applicants and Employees are subject to Pre-Employment and Random Drug Testing.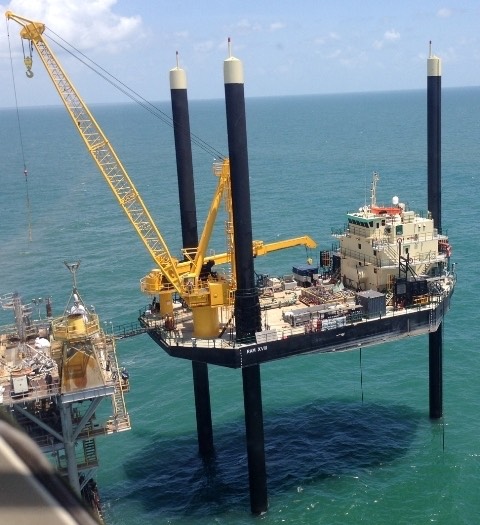 ~ Liftboats
Our Liftboat Fleet ranges in length size from Class 130' to Class 215'
Aries Marine provides Liftboats to the offshore oil production and construction industry. These self-elevating work platforms are outfitted with cranes ranging from 10 to 150 tons. Accommodations for third party personnel are available for platform maintenance and repair, workover operations, pipeline repairs, well hook-ups, rig tending and salvage operations. Our fleet ranges in leg length size from Class 130 to Class 215', and is capable of operating in maximum water depths of 175'.

Each Liftboat is equipped with a Boatracs system, which provides wireless communication and vessel positioning.

Since 1981, Aries Marine has conducted operations utilizing experienced personnel with safety and service as its highest priority. We provide liftboats and offshore support vessels to most of the major and independent oil companies operating in the Gulf of Mexico. Aries Marine takes pride in the upkeep of its vessels, we continue to set the standard of the Gulf regarding safety and efficient operations.
Class

Vessel

Max Water Depth

Deck Load

Crane
Main Capacity & Length

Crane
Aux Capacity & Length

Available Berths

Fuel Capacity (GALS)

Water Capacity (GALS)

130'

RAM I

70'

140,000

Starboard
40T - 70'

25T - 70'
Tele

22

4,000

9,000

130'

RAM III

70'

140,000

Port
40T - 70'
Tele

10T - 60' Fixed

22

4,000

9,000

130'

RAM IV

70'

140,000

Port
40T - 70'
Tele

10T - 50'
Fixed

22

4,000

9,000

130'

RAM V

70'

140,000

Port
40T - 70'
Tele

10T - 60'
Fixed

22

4,000

9,000


130'

RAM VI

70'

140,000

Port
40T - 70'
Tele

10T - 60'
Fixed

22

4,000

9,000

145'

RAM VII

90'

140,000

Port
40T - 70'
Tele

10T - 45'
Tele

22

4,000

9,000

150'

RAM II

90'

140,000

Starboard
40T - 70'
Tele

25T - 70'
Tele

22

4,000

9,000

175'

RAM VIII

130'

400,000

Port 70T - 100'
Fixed

10T - 60'
Fixed

22

7,500

15,000

175'

RAM X

130'

400,000

Port 70T - 100'
Fixed

10T - 60'
Fixed

22

7,500

15,000

175'

RAM XI

130'

400,000

Port 70T - 100'
Fixed

10T - 60'
Fixed

22

7,500

15,000

175'

RAM XV

130'

500,000

Port 100T - 100'
Fixed

10T - 60'
Fixed

22

7,500

15,000

175'

RAM XVI

130'

500,000

Port 100T - 100'
Fixed

15T - 70'
Fixed

22

7,500

15,000

175'

RAM XVII

130'

500,000

Port 100T - 100'
Fixed

15T - 70'
Fixed

22

7,500

15,000

200'

RAM XII

160'

800,000

Port 125T - 100'
Fixed

25T - 70'
Tele

22

9,730

15,000

200'

RAM XIV

160'

800,000

Port 125T - 100'
Fixed

25T - 70'
Tele

22

9,730

15,000

215'

RAM XVIII

175'

1,250,000

Port 175T -
100'
Fixed

50T - 100'
Tele

36

17,841

20,896

215'

RAM XIX

175'

1,250,000

Port 175T -
100'
Fixed

50T - 100'
Tele

36

17,841

20,896
Location: Worldwide
---
Job added by Aries Marine Corporation
Note! Companies never receive or ask for money from seafarers! Read more
about Scam Jobs