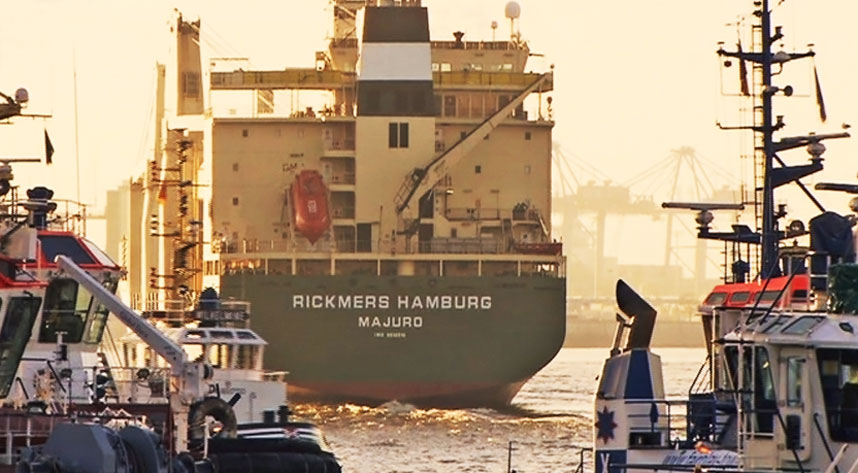 Rickmers Group employs crew members on a worldwide basis and sometimes also qualifies its own seafarers.
Our crewing policy is based on allowing our employees at sea to enjoy a full ocean-going career from cadet up to captain. We seek to promote long-term cooperation with loyal, motivated and well-trained seafarers who feel at home within the team spirit of the Rickmers Group. We aim to promote leadership that is free of any discrimination and favours merit-based promotion. We understand this to include a culture of mutual acceptance of seafarers of different nationalities on board the vessels.
The Rickmers Group is an attractive employer for mariners. We offer long-term contracts of employment, a competitive salary, good training and other incentives. High safety standards are a matter of course.
Our crewing policy
Rickmers Group is committed to establishing long-term relationships with its seafarers and promotes a culture of acceptance among different nationalities on board.
In order to generate trust between employers and employees we pay competitive wages, offer long-term contracts of employment and training as well as other incentive schemes.
Rickmers Group is committed to the development of high safety standards and quality as well as a strong corporate identity.
We regard all ranks and positions as essential for the operation of its vessels. We are particularly committed to supporting masters, officers, petty officers and ratings by providing appropriate training and delegating responsibility.
The success and welfare of the Rickmers Group depends on the outstanding performance of each employee, therefore we expect loyalty and dedication from everyone.
Training at sea
All career paths, up to the most senior onboard positions, are open to all nationalities of seafarers. Capability, qualification, loyalty, character and performance are the basis for promotions in rank. Rickmers Group has intensified the cooperation with training and education facilities worldwide in order to assist the seafarer throughout the recruiting, education and career development process.
Our career development schemes are systematically structured, allowing seafarers to identify their career options within the Rickmers Group organisation. Currently we are offering following programs:
Cadet Programs: We have started several cadet programs to attract young people to service.
Simulator Courses: We offer various courses for deck and engine officers such as Crisis Management and Bridge Team Management Courses locally.
Other Programs/ Courses: We believe in the importance of good leadership and have therefore developed a special training course for soft skill development. Additionally we perform annualy in-house seminars for all seafarers in Asia and Europe. Topics are determined as applicable.
As not only the training and education of officers and engineers is essential, we have established courses such as crane operator courses for ratings joining the Heavy Lift vessels and painting courses for all ratings.
For local assistance in all training matters we have a designated person in each manning agency who is frequently investigating the most beneficial local programs as well as permanently monitoring all programs through our Training & Career Manager.
Crewing Agencies
Rickmers Group is currently operating Rickmers Marine Agencies in the Philippines and Romania and Rickmers Shipping (Shanghai) in China as entry points for seafarers to become part of the Rickmers family.
Currently there is only limited need for recruiting new seafarers. However, if you need further information, please contact one of our agencies below:
Location: Worldwide
---
Job added by Rickmers Marine Agency Philippines, Inc.
Note! Companies never receive or ask for money from seafarers! Read more
about Scam Jobs