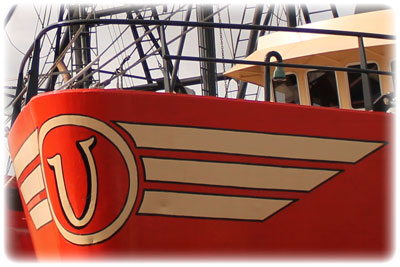 Our fleet usually has a crew of 5-7 fishermen including the captain and most work a "trip" of 7-9 days harvesting scallops. The long liners spend 7-10 days harvesting swordfish & tuna, and 2-4 days of harvesting for our lobster and crab vessels. Our fleet is constantly being maintained to have the latest safety equipment to ensure that out crew works in the safest environment. Our "sea" team consist of over 100 dedicated and experienced fishermen, most following in the footsteps of their fathers and grandfathers!
We are always looking for a Great Catch!
Oceans Fleet Fisheries has experienced phenomenal growth over the past few years and we realize that this growth started with great people!
We always keep the "net" out to see if we can catch a keeper, so whether you have production, sales, operations skills please let us know. We also look at individuals who have the right attitude and desire to learn to become part of the team.
If you are a student who is willing to learn through an intern program please contact us as well.
Oceans Fleet offers a safe, supportive and progressive workplace, competitive wages and a benefits package.
If you are ready to join our crew of industry professionals and feel that you have the right bait, send us your resume.
We look forward to meeting you soon!
Location: Worldwide
---
Job added by Oceans Fleet Fisheries, Inc.
Note! Companies never receive or ask for money from seafarers! Read more
about Scam Jobs