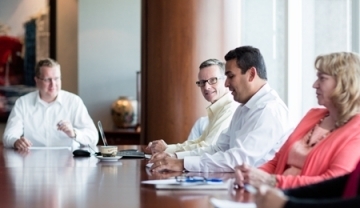 SUPERINTENDENT, OWNED FLEET
Location: Fednav - Montreal, Canada (Head Office)
Job Code: 89
# of openings: 1
DESCRIPTION
Fednav Group: Headquartered in Montreal, is the largest ocean-going ship owning and chartering group in Canada engaged in ocean transportation of mainly bulk cargoes on a worldwide basis. With over 70 years of experience and expertise, we are a driven, innovative, and respected organization committed to our employees and customers.
Values: Honesty, integrity, and a respect toward our community and the environment define our values.
Key Responsibilities: The Superintendent, Owned Fleet will report to the Senior Manager, Owned Fleet, and will be responsible for ensuring the safe, efficient and economical operation of the fleet of vessels assigned to him/her.
Primary Duties and Responsibilities:
Ensures that the fleet is managed according to the contractual terms stipulated in the respective management agreements and that the services received are supportive of our brand promise of "Delivering a higher standard"
Maintains responsibility for the day-to-day coordination between the Owner, various in-house departments and the Ship Manager(s) for the fleet
Monitors and verifies the technical and operational condition, as well as the performance of the fleet through regular shipboard inspections
Identifies and reports relevant issues within the fleet together with suggestions for improvements, innovation and savings to the Senior Manager, Owned Fleet and keeps him abreast of critical developments
Fosters highest operating standards on board in close cooperation with the Ship Manager(s)
Ensures investigation and proper follow-up of incidents and initiates corrective measures
Supports the Chartering and Risk Management departments in handling insurance and commercial claims
Safeguards Owners' interests in the planning and execution of major repairs/dry dockings
Controls, monitors and scrutinizes the operating expenses and un-budgeted expenses received from the Ship Manager(s)
Analyzes possible budget variances and provides justification to his/her superiors
Maintains a positive cooperation and communication with Ship Manager(s), our crews on board and various other service providers
Core Skills:
Strong numerate and analytical skills. Ability to identify issues, their implications for the organization, as well as potential risks and opportunities
Superior verbal and written communication ability (including writing clear reports)
Demonstrates creativity in his/her work and approach to challenges
Effective decision-making ability
Good knowledge of the marine industry and applicable rules and regulations
Able to develop and maintain positive relationships across a variety of hierarchy levels
Awareness of project management: scheduling, budgeting and cost control
Other Requirements:
The preferred candidate will come from an engineering background and preferably have held a similar role in a ship management company
A foreign going Master's Certificate or Chief Engineer's Certificate of Competency is a must
Minimum of three years' in the most senior position on ocean-going vessels
Proficient in English Intermediate computer skills (Microsoft Office)
Location: Worldwide
---
Job added by Fednav International Ltd. (FIL) Headquarters
Note! Companies never receive or ask for money from seafarers! Read more
about Scam Jobs