Indigenous Employment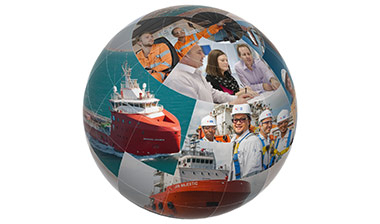 MMA's STRIDE program aims to provide Indigenous participants with the skills required for employment in the marine logistics industry.
MMA recognises that Indigenous Australians are statistically amongst the most disadvantaged groups in Australia. This includes in relation to employment. To ensure continuous effort on this issue, MMA has introduced an Indigenous Employment Policy to improve labour market participation by Indigenous Australians and promote cultural awareness amongst its employees. Central to the policy is achieving positive outcomes for individuals and their families in terms of social and economic engagement.
Underpinning the policy is MMA's commitment to reconciliation between Indigenous and non-Indigenous Australians and the provision of equal employment opportunities within a diverse workplace. Specifically, the policy's objectives are for MMA to:
Increase the participation rate and employment outcomes of Indigenous Australians across all levels at MMA to at least reflect participation levels in society;
Be an employer of choice for Indigenous Australians within Western Australia;
Develop leading strategies and contribute to the national agenda in Indigenous employment and engagement;
Create a work environment that is free from discrimination, promotes an understanding of Indigenous culture, and is culturally respectful and inclusive; and
Build and develop a positive working relationship with the community and relevant stakeholders about improving employment outcomes for Indigenous Australians.
People
At MMA our Vision is supported by our key values of People, Customer Relationships and Team Work.
We recognise that our people are the key to delivering success and we strive to provide a workplace built on trust, cooperation and mutual respect where our people care about their safety and the safety of those around them.
Our Code of Conduct sets out the standards of behaviour expected from all our people when performing duties at MMA to ensure that we work safely, behave considerately and work ethically in support of our Values, and to deliver our Vision.
Training and Development
We are committed to the development of our people through performance feedback, internal development opportunities and training programs. During the 2015 financial year, we continued the strong emphasis on setting clear expectations and achieving key performance objectives through the implementation and monitoring of robust Performance Coaching Agreements.
We strive to continually develop our people through structured training outcomes, aligned with our strategic view to entrench MMA as an employer of choice for our people and service provider of choice for our customers. During the past twelve months, our online learning environment has gone from strength to strength with over 2800 individual course completions achieved during the year. Our principal training focus continues to be on safety leadership and the practical components of workplace health and safety for all employees.
Workplace Gender Equality
We aim to have a workforce that best represents the communities in which our assets are located and our employees live. MMA continues to focus on its targets of at least 10% female representation in senior executive positions (14.3% currently) and at least 30% female representation in senior management roles (19.2% currently).
Activities that support Gender Equality continue to be reflected within our established processes of recruitment, talent management and remuneration.
Location: Worldwide
---
Job added by MMA Offshore Limited
Note! Companies never receive or ask for money from seafarers! Read more
about Scam Jobs