Anthony Veder is specialised in shipping liquefied gas products and has developed long-term relationships with clients in the oil & gas industry. The focus is on the segments of petrochemical gases (Petchems), Liquefied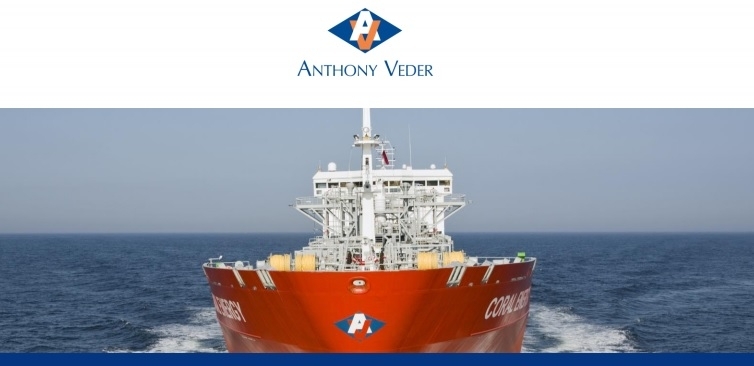 Petroleum Gas (LPG), Liquefied Natural Gas (LNG), Ammonia, and Carbon dioxide (CO2).
At the moment Anthony Veder is looking for:
Ships Officers, Crew and Office staff
Anthony Veder offers a modern high quality fleet of gas tankers for the transportation of LPG, petrochemical gases, CO2 and LNG. The fleet is continuously updated, renewed and adjusted to comply with new regulations, customer requirements and the high standards of the gas industry.
Our Rotterdam-based company has a strong customer focus and offers a reliable and flexible service with a wide range of high quality modern gas tankers on a strong contract portfolio. We always aim to put safety, service and quality first. Quality vessels and quality crew and shore side personnel are fundamental to our company. Our personnel can draw on years of knowledge and this enables them to offer customers informed, tailor-made solutions.
Anthony Veder is currently expanding
Anthony Veder has been growing steadily over the last few years, with our fleet growing towards 30 vessels. To ensure our organization is ready for this growth we are constantly on the lookout for qualified staff for both our fleet and Office.

Currently we have vacancies on board for:
• Masters
• Chief Engineers
• Chief Officer
• 2nd Engineers
• Junior Officers both for deck and engine room
• Cooks
• Bosuns
• Deck and engine room ratings
For officers that do not have gas experience but are familiar on tankers, we organize and support a gas tanker familiarization program combined with sufficient sea time and STCW required certification.

We are looking for the following Office staff:
• Superintendents
• IT staff with STAR IPS experience
• Purchasers
• Book keepers
• Crewing staff
---
Note! Companies never receive or ask for money from seafarers! Read more
about Scam Jobs
---
Job added by The Anthony Veder Group